Rosetta Y. Brown-Rucker
Lake Village, AR, 1981 - 2021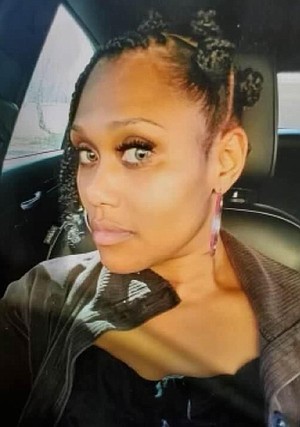 Devoted mother, determined daughter, dedicated caseworker, loving baby sister, and wife, Rosetta Brown-Rucker, 39, passed away after a courageous battle with breast cancer on Thursday, October 14, 2021. She was surrounded by her family as she slept peacefully into her eternal slumber.
Often thought of as shy, she spoke with a quiet voice, offering very few words, emitting such personal warmth that she made whoever she spoke with feel as though they were the most important person in the world. She loved passionately, approached every endeavor with an unmatched dedication and a pursuit for excellence. An adoring mother, Rosetta had a soft spot for all children, and she demonstrated that love daily in various roles while working at the Arkansas Department of Human Services during her 16-year tenure.
Those who knew Rosetta well, know that she leaves a true legacy behind in the hearts of her parents, Idella Brown and Ernest Dotson; Rosetta joins her sister Valerie Huffman Buckner Bunn in the hereafter to watch over the family; she leaves behind her husband, Anthony Rucker (Lake Village, Ark.), her seven heartbeats (her children): Zoey Brown, Hollie Brown, Riley Brown, Karson Brown, Aythan Rucker, Nathan Rucker, and Anthony Rucker, to carry on her legacy, three sisters: Gwendolyn Trigleth (Benton, Ark.), Felicia (Antonio) Brown (Lacey, Wash.), Carolyn Dotson (Hot Springs, Ark.) and one brother, Bryant (Ashley) Kennedy (Greenville, Miss.). A host of nieces, nephews, family, and friends, but her great personality and never-ending love will be missed by all.
A celebration of Rosetta Rucker's life will be held on October 30, 2021, at 11 a.m., at the Central Community Baptist Church located at 402 Annex Street in Lake Village, Ark. Visitation will be held on Friday, October 29, 2021, from 5:30–7:30 p.m., at Bishop-King Funeral Home, located at 1831 Old Hwy 65, Lake Village, Ark., 71653.
Published October 25, 2021
OBITUARY SUBMITTED BY:
Bishop Funeral Home
1831 S Highway 65 82, P.O. Box 825, Lake Village, AR
Phone: 870-265-6166