Charles Eugene "Gene" Ridge, Sr.
Helena, AR, 1932 - 2022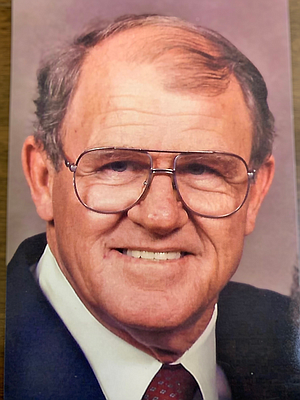 Charles E. "Gene" Ridge, Sr., died quietly and peacefully at his home in Helena on Thanksgiving, November 24, 2022, with his family by his side. Gene and his twin sister were the youngest of nine children born to Willis Burt and Emily Frances New Ridge at Moro, Ark., on December 14, 1932.
Gene served his country in the U.S. Air Force during the Korean War. Upon returning from the service he began a career with Retail Credit Company, now known as Equifax, from which he retired in 1970. Upon retirement from Equifax he bought two neighborhood grocery stores, Reeves Grocery and U-Save Food Center. He later became a managing partner of Helena Wholesale Grocery until it closed in 2004. He attended West Helena Baptist Church for over 60 years.
As a store owner, Gene had opportunities to help people in need and often opened his home to travelers. Some of their most memorable visitors were a Mississippi River canoeist who wrote a book describing his visit to Helena, a cross country cyclist, and a couple of world traveling bird watchers, all of whom he took into his home.
Gene was an avid sports fan and golfer. He enjoyed coaching his sons' Little League teams and served as president of the Twin City Little League Association. He was instrumental in the moving of the old Helena Little League Park to the new park on North 10th Street in West Helena. Gene was a staunch supporter of DeSoto School during its inception and was a dedicated volunteer at school activities, especially in the sports events.
"Uncle Gene" was a favorite of his many nieces and nephews. He will be well remembered for his story telling at family gatherings and for hosting family reunions, especially at Moon Lake.
Preceding him in death were his parents; two brothers; Raymond Ridge and Willis Ridge; four sisters: Vinnie Ligon, Inez Graham, Virginia Chapman and Jan Ridge. Also preceding him in death was a grandson, Little Willis Nathan Ridge.
Surviving is his loving wife of 66 years, Wanda Freeman Ridge; two sons, Charles E. "Charlie" Ridge Jr. (Susan) of Benton and Willis Freeman "Bill" Ridge (Robin) of Courtland, Miss.; and the lights of his life, his grandchildren and great-grandchildren, Joshua, Emily, James Willis, Baylor, Charli Louise and Decker.
Also surviving are a sister, Doris Pugsley of Moore, Okla., his twin sister, Eugenia Corkran of Helena, and a great number of nieces and nephews.
Special thanks go to the nurses and aids from Elite Hospice who were a blessing during his last months.
In lieu of flowers, memorials to DeSoto School or West Helena Baptist Church will be appreciated.
Graveside services will be at 2 p.m., Thursday, December 1, 2022 at Maple Hill Cemetery with Bro. Jason Webster officiating.
Services will be directed by Roller-Citizens Funeral Home, West Helena, (870)-572-2571. Relatives and friends may sign the online guestbook at www.rollerfuneralhomes.com/westhelena.
Published December 1, 2022