Grace Ann Durden
Arlington, TX, 1945 - 2022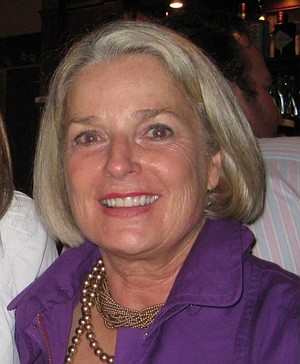 Our beloved Grace Ann Mires Durden passed away peacefully on November 22, 2022 in the presence of her family. She was born on March 3r, 1945 in Springfield, Mo., to Ralph and Mary Lee Mires. She lived most of her adult life in Fort Smith, Ark., where she raised her two sons, built her career, and developed lifelong friendships. She was a devoted wife, mother, stepmother and grandmother. She was a friend to all.
Grace Ann's greatest accomplishment and contribution was her capacity to connect with every person she met. She had a unique ability to make people feel heard, seen, and understood as she sought to find commonality in everyone she met. She was able to find a point where she could connect with people in a way making them feel her love and attention. Her concern for all people was genuine and uniquely special to her.
She is survived by her husband, Robert (Bud) Rowland Durden; her son, Dr. Michael Dortch Coleman Jr. and wife, Sonya Carter Coleman of Nashville, Tenn.; her son, Dr. Christopher Matthew Coleman and wife, Lucy Buergler Coleman of Fort Smith, Ark.; step-son, Robert Rowland Durden II and wife, Beth Rall Durden of Califon, New Jersey; Step-daughter, Marilyn Durden Guion and husband, David Grantham Guion of Houston, Texas; Step-son, Brandon Wilson Durden and wife, Sarah Covey Durden of Fayetteville, Ark.; Step-daughter, Michaelann Taylor Durden of Austin, Texas; brother, Ralph Elbert Mires and wife, Janice Ebersole Mires of Overland Park, Kan.; brother, David Lee Mires and partner, Shirley Bryant of Springfield, Mo.; Her nephew, Nathan Ellis Mires and wife, Jennifer Loeper Mires of Leawood, Kan.; her niece, Anne Ralston Mires Locke and husband, Jonah William Locke of Prairie Village, Kan.; her niece, Sarah Elizabeth Mires Dodd and husband, Kyle Patrick Dodd of Olathe, Kan.; her grandchildren, Dr. Madison Mires Coleman, Carolina Carter Coleman, Campbell Riddick Coleman and Bennett Lawrence Coleman; Lucy Katherine Coleman, Ellis Sicard Coleman and Vivian Grace Coleman; Robert (Tripp) Rowland Durden, III; Ford Grantham Guion and Graham David Guion; Harper Ann Durden and Mack Charles Durden.
She was preceded in death by her parents, Ralph and Mary Lee Mires.
Grace Ann graduated valedictorian from Parkview High School in 1963. In the previous year, she was crowned Parkview High School Viking Festival Homecoming Queen. She graduated from the University of Arkansas in 1968 with a Bachelor of Arts in Elementary Education. Grace Ann was a member of Chi Omega Sorority and served as AWS State Treasurer in 1965. In 1964 she was selected as a member of the first Angel Flight on the UofA campus organized and sponsored by the Arnold Air Society in conjunction with the Air Force ROTC.
Grace Ann taught first grade at Bethesda Elementary School in Durham, N.C., from 1967 until 1969. The following year she was appointed director of Grace Baptist Preschool.
After moving to Fort Smith, Ark., Grace Ann took a position as a tennis instructor with the Fort Smith Parks and Recreation in 1976. The following year, she was recruited by Arkansas Best Corporation to serve in various capacities. After 27 years of service to the company, she finished her career in 2004.
Grace Ann married the love of her life, Bud Durden, in 2008. It was a fairytale romance beginning with their initial meeting in college in 1963. However, they did not meet again until 1976, when they serendipitously found themselves living in the same neighborhood in Fort Smith. Before they could reconnect, once again, life took them in different directions as Bud resettled in Arlington, Texas. In 2003, their story continued when Bud noticed her photograph at the home of a mutual college friend. He finally seized the opportunity to ask her for a first date beginning a long overdue, late-in-life, whirlwind love story. After moving to Arlington, she was selflessly devoted to Brandon and Michaelann's lives. She became a positive influence at a critical time for them and loved them like her own children. Grace Ann and Bud were together for the remainder of her life. Bud gave her 20 years of great happiness, traveling the world together and making these, by far, her best years.
Always honoring the accomplishments of her family, she was never one to boast her own. In the spirit of capturing her character, her family would like to share some of her achievements. In 1955, she was the Missouri State Roller Skating Champion. She went on to place 5th in the National Junior Olympic Competition. As an avid USTA Team Tennis player, she was a member of an Arkansas state championship team that went on to compete in the Southern Sectional Championships. Her love for the sport is a legacy continued through her children and grandchildren. She dedicated much of her adult life to community service. She served many years as a member of the Fort Smith Junior League. In 2011, she was selected to serve on the Super Bowl XLV Committee in Arlington, Texas. Until her passing, Grace Ann was a loyal member of the Board of Directors of the North Central Texas chapter of the Alzheimer's Association.
Apart from her community service and athletic excellence, Grace Ann's dedication to her friends is noteworthy. She was known for her many friend groups including The Bluffaloes, The Quacks, The Birthday Bunch, The Alzheimer's Birthday Group, Book Club, The Neighborhood Gang and any other group of friends she could name. Grace Ann enjoyed float trips, her family's lake house, and spending time with the ones she loved. Of all her honors, accomplishments, and achievements, she considered her role as grandmother to her 12 grandchildren to be her most rewarding adventure of all.
A memorial service will be held at 11 a.m., on Friday, December 2 at Wade Funeral Home in Arlington, Texas. A Celebration of Life Service will be held on Dec.22, 10 a.m., at Immaculate Conception Catholic Church in Fort Smith, Ark.
In lieu of flowers, memorials may be made to the North Central Texas Alzheimer's Association on their website act.alz.org or the charity of your choice.
Published December 1, 2022
OBITUARY SUBMITTED BY:
Arlington Funeral Home
1221 E. DIvision Street, Arlington, TX
Phone: 817-548-1791
http://locallyowned.org