Jerre Max Van Hoose
Springdale, AR, 1938 - 2022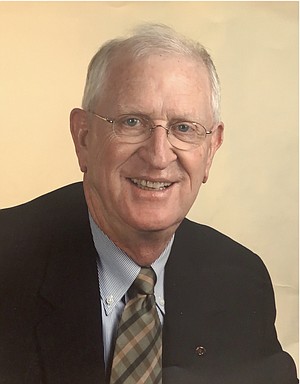 Jerre Max Van Hoose died on Friday, Dec. 2, 2022 at Circle of Life Hospice in Springdale, Arkansas. He was born on July 3, 1938 to Pink Henry and Juanita Brown Van Hoose on Bear Mountain in the Baldwin community east of Fayetteville, Ark.
Jerre was predeceased by his first wife, Judy Harp Van Hoose, his parents, and his brother, Scott Van Hoose, and son-in-law, Gary Green.
Jerre is survived by his wife, Judy; son, J Max Van Hoose (Kelley); daughter, Jill Green (Sam Hollis); and son, Justin Van Hoose (Laurelin). He is also survived by his sister, Donna Hahn. Also surviving are stepsons, Neil Stafford (Geneva) and Mike Stafford (Maya). Also surviving him are his grandchildren Madeline Schemel (Alex), Linden Van Hoose, Claire Green, Millie Green, Clark Green, Harp Van Hoose, and Bo Van Hoose. Step grandchildren are JD Stafford (Jessie), Josh Stafford (Alexis), Thatcher Stafford, Gabe Stafford, and Mina Stafford. Jerre is also survived by aunts, Fleeta Gentry and Peggy Barth as well as several nieces and nephews.
He attended Baldwin schools until he transferred to Fayetteville public schools after the 8th grade. He graduated from Fayetteville High School in 1956. Jerre served in the National Guard for six years while putting himself through college. Jerre is a 1963 graduate of the University of Arkansas with a degree in Agricultural Economics. While he was at the university he began working for McGoodwin, Williams, and Yates, an engineering firm in Fayetteville. Jerre did land surveying during the summer breaks and while standing out in the heat, he learned to spot four leaf clovers which he delighted in showing off. His career at McGoodwin continued after college. Jerre worked at McGoodwin for 38 years, eventually rising to the position of Sr. Vice President. At McGoodwin, Jerre worked with communities across Arkansas on improving their water and sewage systems. He was particularly adept at obtaining funding for these projects. He was proud of his role in improving these communities and McGoodwin's work with other projects including the Jones Center and HarBer Meadows development.
In June of 1963, Jerre married Judy Harp Van Hoose. They had three children: J. Max, Jill, and Justin. Jerre and Judy moved from Fayetteville to Springdale where Jerre quickly became involved and fell in love with the community. They were members of First United Methodist Church of Springdale where Judy played the organ and the piano for worship services. Judy passed away in February 1987.
Jerre's love of Springdale showed in his commitment to a variety of organizations. He was a member of the building committee at First United Methodist when the Kimbrough building was built and was the chair of the building committee for the expansion and remodel in the late 90s. He served as president of the Springdale School Board, Ozark Regional Transit, and the Arkansas Water Works and Pollution Control. He was a 50-year Rotary member serving as president 1983-1984 and was a Paul Harris Fellow. Jerre was a long-time member of the Arts Center of the Ozarks and served as president in the early 70's.
In 1998, Jerre married Judy Stafford Van Hoose. Soon thereafter, in 1999 Jerre was elected Mayor of Springdale and served in that capacity until 2010. As Mayor of Springdale, Jerre helped lay the groundwork for the explosive growth in the region. He helped choose the site for the Naturals Baseball team in Springdale. He had a vision of a road that would become the DonTyson Parkway, and he worked tirelessly to make that happen. Jerre also was instrumental in enlarging Huntsville Avenue and Wagon Wheel Road.
As Mayor, he was a member of the Arkansas Municipal League where he received leadership awards and honors such as the Glen T. Kellogg, Adrian White, and Southwest Section of the American Water Works Association. Ultimately, Jerre loved life. He loved God and followed Jesus. He loved to dance. He loved dinner with friends. He loved his family, and all things Razorback. He loved the outdoors whether it be taking care of his yard, water skiing, snow skiing, taking his dogs on walks, or his annual trips to the Triangle X Ranch in Moose, W.Y.
Visitation will be Tuesday, Dec. 6 from 5-7 p.m., at First United Methodist Church Chapel, Springdale. The memorial service will be Wednesday, Dec. 7, at 1:30 p.m. at First United Methodist Church. Private interment services will be held at Friendship Cemetery in Springdale.
Memorials to: FUMC Foundation, 206 W. Johnson, Springdale, Ark., 72764 or Circle of Life Hospice, 901 Jones Road, Springdale, Ark., 72762.
Online condolences may be left at www.siscofuneral.com.
Published December 4, 2022
OBITUARY SUBMITTED BY:
Sisco Funeral Chapel
705 W. Meadow St., Springdale, AR
Phone: 479-751-4577
http://www.siscofuneral.com