Nancy Sue McKown
Conway, AR, 1941 - 2022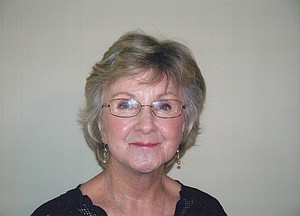 Nancy S. McKown was born on Dec. 20, 1941, in Arkadelphia, Ark., to Herman J. and Carrie Lee Wilkerson. She passed away on Dec. 1, 2022, at the age of 80. She is survived by her husband Robert A. McKown of Conway, daughter Cindy Stanley (Ron) of Indianapolis, Ind., and three grand-children: Molly Peters-Stanley, Andrew Stanley, and Toby Stanley. Nancy was preceded in death by her parents and brother Charles Wilkerson.
Shortly after birth, her family moved to North Little Rock, Ark., where she grew up and graduated from North Little Rock High School. She met Robert in early 1960 and married a short time after, celebrating 62 years together on Aug. 19 of this year. They made Sherwood, Ark., their home for 38 years before moving to Conway, Ark.
Nancy was passionate about her decades of work as a Weight Watchers group leader and longtime Republican Party membership. She became a Christian at an early age and loved going to church and Sunday school as long as she was able, in recent years attending Woodland Heights Baptist Church in Conway, Ark.
Nancy was a lifelong homemaker who took pride in her southern cooking, sewing, sharing humorous stories, and finding simple ways to make her house feel like home. She was blessed by and enjoyed spending time through the years with each of her five beloved dachshunds, most recently Barney. Nancy is deeply cherished by her family and friends for these contributions, for her singing and quick wit, and for teaching her grandchildren to see God's love in the simple things.

A Graveside Service will be held on Wednesday, Dec. 7, 2022 at 1 p.m. at Resthills Cemetery in North Little Rock, Ark. A visitation will be held on Wednesday, December 7, 2022 at Roller McNutt Funeral Home in Conway from 9:30-11:30 a.m. prior to the graveside.
Published December 4, 2022