Mary Louise (Dunham) Chandler
Rogers, AR, 1922 - 2022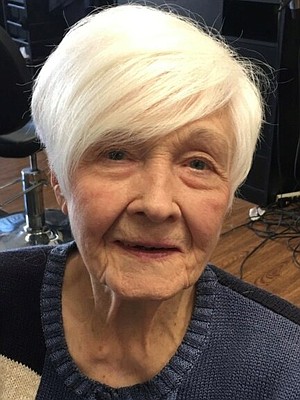 Mary Louise (Dunham) Chandler passed away on December 1, 2022 at the age of 99. She was born on December 27, 1922 in Highfill, Ark., to the late William Clay and Jessie Harriet (Sizemore) Dunham.
At 99 years old Mary was part of The Greatest Generation. Few people got to see the world change like she did. She spent her childhood and teenage years in The Great Depression and during World War II, she joined the Rosie the Riveter campaign and traveled to California to work at the shipyards.
Upon returning to Arkansas, she worked at South Western Bell as a switchboard operator. After South Western Bell, she was employed at DaisyBB in the personal department from 1958-1985.
Mary married Edgar Chandler and they had two daughters, Chris Ann and Karen.
After a pause, Mary returned to work at Walmart at the jewelry counter in Rogers.
At 72 Mary retired. She loved to spend time at church and with her dogs. She was also a passionate gardener. She loved to go for a drive or attend social gatherings.
She was preceded in death by her brothers William, George, Robert and sister Lena Marie.
Mary is survived by her daughters Chris Ann Yarbrough and Karen Scarlett; brothers Herman and Walter Dunham; and sister Lucy Powell; grandchildren Savana Rey Scarlett and Lester Howard Nye; great-grandchildren, Leslie Cheyenne Nye; and great-great-grandson Atticus Templeton.
Celebration of Life will be held at a later date.
Published December 6, 2022
OBITUARY SUBMITTED BY:
Rollins Funeral Home
1401 W. Hudson Rd, Rogers, AR
Phone: 479-631-6617