Fred Wyard Hunt
of Little Rock, AR, 1923 - 2022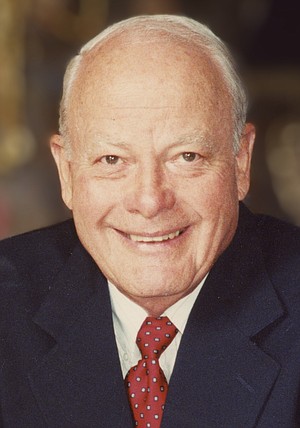 FRED WYARD HUNT, of Little Rock, passed away on Dec. 1, 2022. Fred was born on Dec. 25, 1923, to Charles and Frida Andres Hunt in Fort Smith, Ark. He was predeceased by his five sisters: Celia Carter, Bettye Ruth Mills, Kathryn Woodruff, Charleen Green, and Frida Helen Boyd.
Upon graduation from Fort Smith High School, Fred moved to Fayetteville to begin his college career at the University of Arkansas. World War II interrupted his college. In 1943 he volunteered for the Naval Aviator training program. In 1945 Fred became a Navy pilot and remained in the Naval Reserves until 1953. He first attained a Single Engine Land pilot rating, followed by Multi-Engine Land and Sea, Commercial, and Instrument ratings.
At the close of WWII, Fred returned to the U of A in Fayetteville to study architecture and business. He graduated in 1949. While at the university, he was initiated into the Sigma Alpha Epsilon Fraternity. He remained an active SAE alumnus for life.
After graduation from the U of A, Fred spent five years as a traveling Sales Representative for the United States Chamber of Commerce before settling in Little Rock to commence a career as a home builder. Beginning in 1955, Fred built homes, apartments, condominiums, and developed subdivisions in Little Rock, Bryant, and Benton. He served as President of the Greater Little Rock Home Builders Association and in 1961 served as a Director of the National Association of Home Builders. NAHB, in recognition of his service, made him a Life Director in 1971.
On Aug. 3, 1958, Fred married the love of his life, Cary Clark, who first told him: "Fred Hunt, you cannot afford me!" Two daughters, Sharon Clark Stevenson and Patricia Clark Hammond came with his marriage to Cary. Fred raised these girls as if they were his own. Cary died on April 18, 2018.
Fred was a long-time member of the Little Rock Second Presbyterian Church. He was a founding member of Pleasant Valley Country Club, Past President of the SEF Investment Club, U of A Alumni supporter (Towers of Old Main), Razorback Fan, an active member of the Little Rock Duplicate Bridge Club, and supporter of many local charities.
Fred loved to cook and entertain friends and family. His hobbies included: flying, golf, skiing, hunting, bridge, gin rummy, and traveling. He was a "family man" and stayed in touch with the family throughout his life by visiting, phone calls, letters, and sending birthday cards. All were welcome at the Hunt home. "Uncle Fred" was a favorite of nephews and nieces. He maintained a close relationship with his cousins, including those from England.
For many years, Fred and Cary spent the month of February in Cuernavaca, Mexico where he enjoyed playing golf and developed numerous lasting friendships. Crested Butte, Colorado was another special place. Fred enthusiastically spent many days skiing on the beautiful slopes, playing golf on local courses, and making many more warm and enduring friendships.
At the time of his death, Fred resided at Point Pleasant, a 24-unit townhome/condo community he built in the 1980s. His neighbors became close and dear friends.
Fred is survived by his daughters, Sharon Stevenson and Patricia Hammond (Roger), his grandchildren, Jeanne Hyde, Tripp Vogel, Heather Dawson, Cary Cummings, Chelsea Anderson and Laura Murphy, and many great-grandchildren. The family extends special thanks to long-time caretaker and friend, Dovie Wright, and neighbors including Susie Brannon, Pat Atwood, Phillis Arrington, Vickie Taylor, and Pete Vratsinas for their love and care of Fred. Visitation will be Wednesday, Dec. 14, 4 p.m. at Smith Funeral Home, Knoedl Court, Little Rock. Private burial to be Thursday, Dec. 15, 11 a.m. Pinecrest in Alexander, Ark. Funeral services will be on Thursday, Dec. 15, 3 p.m. at Second Presbyterian Church, Little Rock. At 6 p.m. a reception will be held at Pleasant Valley Country Club. In lieu of flowers, memorials may be made to Arkansas Food Bank, P.O. Box 34427, Little Rock, Ark. 72203; Second Presbyterian Church, 600 Pleasant Valley Dr., Little Rock, Ark. 72227; Salvation Army, P.O. Box 3605, Little Rock, Ark 72203. Fred's online guestbook may be signed at www.smithfamilycares.com.
Published December 11, 2022
OBITUARY SUBMITTED BY:
Smith Little Rock Funeral Home
8801 Knoedl Ct., Little Rock, AR
E-mail: littlerock@smithfamilycares.com
Phone: 501-224-2200