James Franklin Womack
Centerton, AR, 1930 - 2022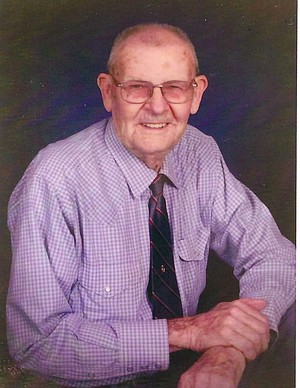 James Franklin Womack, age 91, went peacefully to his eternal heavenly home at Apple Creek Health and Rehab Saturday, December 10, 2022, in Centerton, Ark. He was born December 22, 1930 in Centerton, Ark., to Elvia Franklin (Tucky) Womack and Vesta Murrel Wiseman Womack and was a lifetime resident of this area.
James was a U.S. Army veteran who served in Hokkaido, Japan. He married Helen M. Brewer August 21, 1949, in Bentonville, Ark., and worked in various professions throughout Northwest Arkansas: Munsingwear, Wendt-Sonis, Walmart and retired from Triangle Building Supply in 1992. He enjoyed wood working, nature, traveling with his wife and friends, Blue Grass Festivals, gardening and putting jigsaw puzzles together.
James was proceeded in death by his parents, brothers; Larry Wayne and Bill, sisters; Joyce Holderbee Fisher and Carol Cogdill Watkins.
He is survived by daughters; Joy Newberry (Gary) and Beverly Hollums (Ron), granddaughters; Natalie Szymczak (Scott) and Tiffany Calhoun (Will), Brandee Shell, Amanda Thibodeaux (Lance) and grandson; Dylan Hollums (Tara), 11 great-grandchildren and one great-great-grandson, brother; Howard Womack (Bernell), sister-in-law; Shirley Womack and many nieces and nephews.
A Celebration of Life will be held Wednesday, December 14, 2022, at the New Home Historic Church, 12767 Peach Orchard Rd., Bentonville, Ark., (off I49 behind Lowes.) Visitation begins at 10 a.m., immediately followed by service with Randy Featherston officiating. Interment will be held at the Bentonville Cemetery, 400 SW "F" street, following the service.
In lieu of flowers, a memorial has been established at New Home Church, P.O. Box 1352, Bentonville, Ark., 72712.
A special thank you to all who have loved James well in the last 9 1⁄2 years: Innisfree Retirement Community Staff and Residents, Dorothy Munns, Jorene Renteria, Jennifer Liles; NP with Mercy, Circle of Life Hospice, Apple Creek Health and Rehab Staff, family and friends.
Arrangements by Epting Funeral Home, Bentonville, Ark.
Online condolences may be made at: eptingfuneralhome.webs.com.
Published December 13, 2022
OBITUARY SUBMITTED BY:
Epting Funeral Home
709 N. Walton, Bentonville, AR
Find it at: corner of Walton and College
E-mail: eptingfuneralhome@inbox.com
Phone: 479-273-3443
http://www.eptingfuneralhome.webs.com/