Thomas Gene Goldsborough
Bella Vista, AR, 1936 - 2022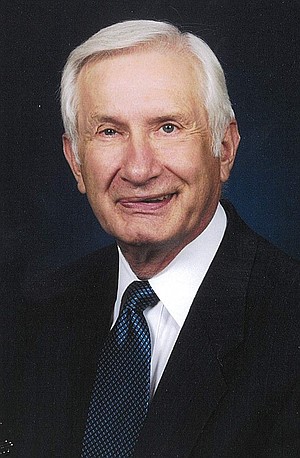 Thomas Gene Goldsborough passed from this life on Dec. 1, 2022, at the age of 86.
Tom is survived by his wife Amanda Goldsborough, his children Greg, Justin and Tara, his stepchildren Debbie Fahlsing and James and Rosa Brown, his grandchildren Sean, TJ, Eric and Betsy Goldsborough, and his step grandchildren Heather Cargill, Natalie Smith, Francis and Christina Brown.
He is preceded in death by his sister, Gladys Irene Goldsborough Kennedy, his son Thomas Bradley Goldsborough, his stepson-in-law David Fahlsing and his nephew Wesley Kennedy.
A celebration of Tom's life will be held on Friday, Dec. 16, at the First United Methodist Church of Bentonville. Visitation will begin at 10 a.m. followed by a memorial service at 11 a.m. The family asks that you consider donating in Tom's name to the church's Second Street Pantry. To learn more about the Second Street Pantry and find out how you can donate, visit 2ndstpantry.org.
To read Tom's full obituary, visit https://www.funeralmation.com/obituary/thomas-goldsborough.
Published December 14, 2022
OBITUARY SUBMITTED BY:
Bella Vista Funeral Home & Crematory
2258 Forest Hills Blvd., Bella Vista, AR
E-mail: charolettepruitt@funeralmation.com
Phone: 479-855-1611