Benny Don Freeman
of North Little Rock, AR, 1943 - 2022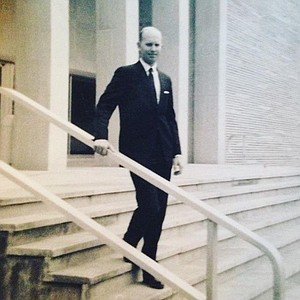 BENNY DON FREEMAN of North Little Rock, Ark., was born February 17, 1943, in Seminole, Okla., to Charles Napoleon and Freda Victoria (Cathey) Freeman of Sasakwa, Okla., and passed from this life on December 12, 2022, at Roberson Nursing Home in North Little Rock, Ark. He will be buried holding his favorite hat, an Indiana Jones copy.
Benny grew up in Sasakwa, Okla. He graduated from Sasakwa High School and was Valedictorian of his class. He enrolled at East Central, in Ada, Okla. To finance his education, he worked the four years at a JCPenney store in Ada.
At East Central, he met his future wife, Mary Lou Park of Lindsay, Okla. They were married August 29, 1964, at the Chapel on East Central Campus. After finishing his degree, Benny taught at Orange Park, Fla., and Great Bend, Kan., he then received a Master's in Library Information Systems at Emporia, Kan. He worked in libraries in Dallas, Oklahoma City, and was longtime director of Dunklin County, Mo., Library System.
Computers fascinated Benny. He taught himself how to code and wrote several programs. He also had various business investments. He was a partner in Sonic of Dumas, Ark. Benny was partner with Mary Lou as Landlord and franchisee of Corning, Ark., Sonic.
Benny was preceded in death by: his infant daughter, Kathy, who is interred at Restland Cemetery, Richanson, Texas; his parents: C. N. and Freda, buried at Enid, Okla.; brother, Russell of Garden City, Kan.; brother; Louie of Sasakwa, buried at Holdenville, Okla.; and brother, Jim of Sasakwa, buried at Holdenville, Okla.
He is survived by: his wife, Mary Lou of North Little Rock Ark.; daughter: Annette and husband Ramon Palanca of Atlanta, Ga.; son: Bryce of Little Rock, Ark.; daughter: Carrie of St. Louis, Mo.; sister: Lucille Gravlee, Enid, Okla.; brother: John of Sasakwa, Okla.
Graveside services are scheduled for 11 a.m., Friday, December 16, 2022, at Greenhill Cemetery in Lindsay, Okla. Services are under the direction of Wooster Funeral Home. You may send a condolence to the family at www.woosterfuneralhomes.com.
Published December 16, 2022