Betty Jane Imboden Hambuchen
Fayetteville, AR, 1928 - 2022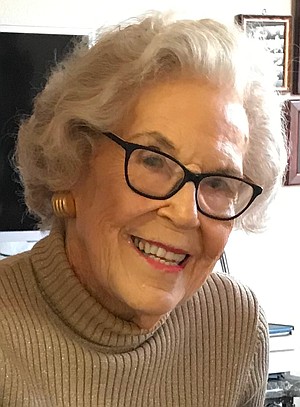 Betty Jane Imboden Hambuchen, 94, died in Fayetteville, Ark., on Wednesday, December 14, 2022. Born to Edward and Juanita Johnston Imboden, she grew up in Conway and attended St. Joseph Catholic School, where she met her future husband, Robert Hambuchen (Bob), in first grade. Betty was a star student at St. Joseph's, despite the fact that for years she had to walk two miles each way to school! After graduating as valedictorian of her class, Betty attended Arkansas State Teachers College. On October 17, 1949, Betty and Bob married, and she was thrilled to become a part of the large and lively Hambuchen clan. The two lived happily together until his death in December 2020. She is survived by their five children: Robert Hambuchen (Judy), and Michael Hambuchen (Carol), of Conway, Paula Wilson (Bob) of Batesville, Barbara Kordsmeier (Kent) and JoAnn Kordsmeier (Eddie) of Fayetteville; as well as 16 grandchildren and 30 great-grandchildren. She is preceded in death by her husband Bob, as well as her parents and a younger brother, Herman Joseph Imboden.
Betty was a lifelong homemaker, wife and mother. She supported Bob's career with Pacific Bell Telephone in California, making a new home for the family every three to four years as Bob was transferred to a new city. In 1968, they returned to their families in Arkansas. Shortly after the move, Betty was diagnosed with breast cancer. After recovery from surgery, she became an enthusiastic volunteer for Reach to Recovery, bringing help and hope to other women with cancer at a time when speaking about breast cancer was nearly taboo. She was a 50+ year survivor and an inspiration to many grateful women.
Betty was an artist, which was manifested in her home, her apparel, and in business. In retirement, Bob and Betty opened Hambuchen Gardens and Gifts in Conway, and Betty created a charming gift shop to complement the nursery. She loved going to market and stocking the store with unique (and usually sparkly) items. She worked with the plants, too, always decked out in jewelry and lipstick, even when there was dirt under her fingernails. Although she had many other successes, Betty's proudest accomplishments in life were her loving marriage and her children, grands, and great-grands.
Betty was a life-long member of St. Joseph Catholic Church in Conway. A rosary will be said at St. Joseph's at 10 a.m. on Wednesday, December 21, followed by visitation and then the funeral mass at 11 a.m. In lieu of flowers, the family asks that donations be made to the St. Joseph School Endowment Fund, P.O. Box 72, Conway, Ark., 72033.
To place an online tribute, please visit www.bernafuneralhomes.com.
Published December 18, 2022
OBITUARY SUBMITTED BY:
Nelson-Berna Funeral Home and Crematory
4520 North Crossover Road, P.O. Box 8982, Fayetteville, AR
Phone: 479-521-5000
http://www.nelsonberna.com