Bonnie Sue Kizer
Pine Bluff, AR, 1939 - 2022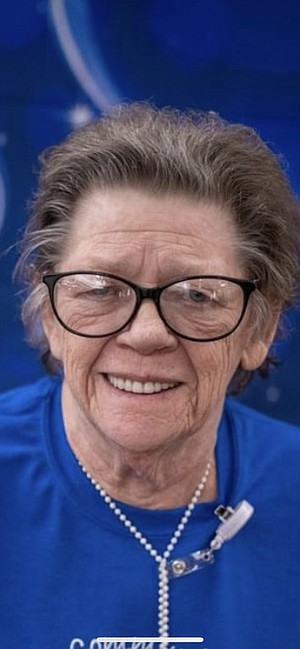 Bonnie Sue Kizer, 83, of Pine Bluff, passed away December 12, 2022. She was born July 23, 1939, in Drew County, Ark., to the late Marvin Whitten Trimm and Margaret Pauline Levell Trimm.
Bonnie grew up in rural Drew County, Ark., never far from the boy she famously ran off with to marry in Greenville, Miss., Larry Kizer. She and Larry were young in their lives, marriage, and parenthood when they entered the US Air Force. Kids kept coming and Bonnie leaned on the help of family to endure Larry's military deployments, which eventually sent him home broken from the Vietnam War. After convalescing at the Little Rock Air Force Base, Larry and Bonnie reentered civilian life in Southeast Arkansas with four kids in tow and a job at the Cotton Belt Railroad in Pine Bluff, where they remained.
Bonnie was a lot of things -- a daughter, a sister, a wife, and a friend -- but she first and foremost was a mother to her kids. She loved her kids unconditionally, including two whose lives were never allowed to mature. At four feet and 10 inches, she was a powerhouse to her young kids and an inspirational Mom to her adult kids. She would have preferred to share hugs and a Bud Light with her kids and family over anything.
A proud accomplishment led Bonnie to spend many late-in-life years working her first job in debt collection and in so doing became a member of credit professional organizations while a team member at RMC of America in White Hall. The strength and dignity her career gave her was immeasurable and the family wishes to thank life-long friend Bea Cheesman for her grace, love, and mentorship of their mother. Bonnie retired from RMC and could not have been prouder of her role there.
Bonnie lived at Trinity Village Assisted Living in Pine Bluff for multiple years following retirement where she grew her Baptist faith attending the Vespers service and developed her inner-social butterfly with new friends. Bonnie thrived in her years at Trinity as she felt the comfort, love, and security of the Trinity Staff. The family is humbled by and appreciative of everyone at Trinity.
Preceding her in death were her parents; husband, Larry Kizer; a son, Jerry Kizer; and two sisters, Annette "Bug" Sanson of Monticello and Ann Starrett of Oklahoma City.
Survivors include three children: Maxie Kizer (Leigh) of White Hall, Deborah Jacobs (Danny) of Pine Bluff and Tim Kizer (Sandy) of Rogers; one sister, Kathy Hedtke (Roy) of Amarillo; six grandchildren; three great-grandchildren, and a large and very loved extended family.
In lieu of flowers, the family requests that donations be made to Trinity Village Assisted Living Facility in Pine Bluff. (https://www.trinityvillageretirement.com)
Memorial Services will be held at a later date.
Online guestbook at www.ralphrobinsonandson.com.
Published December 18, 2022