Grace Katherine Walker
Fayetteville, AR, 2002 - 2022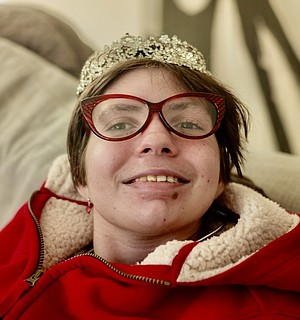 Grace Katherine Walker, age 20, of Fayetteville, Ark., passed away on Friday, December 16, 2022. She was born June 11, 2002, in Fayetteville, Ark.
Grace was known to all as a truly pure and sweet soul, fully living up to her first name every day in the face of a lifelong battle with a rare and severe form of epilepsy.
If it takes a village to raise a child, then it takes a very special village to raise a child like Grace. She was loved and cared for by her parents, her sister, her extended family, and her friends and teachers in the special needs program throughout her time at Fayetteville Public Schools. We are immensely grateful for all of them. She gave more to us all than she ever took.
Survivors are her parents, Timothy Bernard Walker, and Kathi Joy Richardson Walker; a sister, Emily Katherine Walker; a paternal grandmother, Sharon Walker.
A memorial service will be planned and announced for a future date. In lieu of flowers, please consider giving to The Epilepsy Foundation in Grace's honor, by visiting https://www.epilepsy.com/give/your-gift-matters
Cremation arrangements are by Nelson Berna Funeral Home of Fayetteville.
Published December 21, 2022
OBITUARY SUBMITTED BY:
Nelson-Berna Funeral Home and Crematory
4520 North Crossover Road, P.O. Box 8982, Fayetteville, AR
Phone: 479-521-5000
http://www.nelsonberna.com