William N. "Bill" McDonald
of Little Rock, AR, 1938 - 2022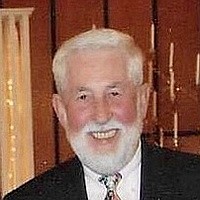 WILLIAM NEWTON "BILL" MCDONALD of Little Rock, Ark., was born June 16, 1938, at Grant County, Arkansas, the son of the late Monroe Newton McDonald, Jr. and Ercie Ann Shoptaw McDonald. Bill was retired from A.O. Smith after 35 years of work, had served in the Arkansas National Guard, and was a Baptist. He and his wife Ann were more than husband and wife, they were the best of friends, and they made years of memories together. He was a member of Arkansas Fly Fishers, Central State Peruvian Horse Club, Belles and Beaus Square Dance Club, Jenkins Ferry Hunting Club and he was a founding member of Cousin Camp, where he was known as "Uncle Cookie".
Mr. McDonald died Sunday, December 18, 2022 at his home, at the age of 84. In addition to his parents, he was preceded in death by his grandparents, Corry and Sally Shoptaw; sister, Sally Ann McDonald Crook; brother, Rommie McDonald; sister-in-law, Jo Bradford; brothers-in-law, Gene Mitchell, Ernest Bradford.
Survivors include his wife of 62 years, Ann Bradford McDonald, or AKA "Girlfriend" as he called her, just to keep people guessing; siblings by choice, Tom Bradford, Fannie Mae Mitchell, Murvin "Butch" Bradford, Richard Bradford (Susan), Bob Bradford (Cindy), Mary Thomason (Franklyn), Pam Bradford; honorary grandchildren, Alex Bradford (Natalie), Calley Bradford; honorary great-granddaughter, Emma Bradford; special cousins, Julie McDonald Cabe, and his fly-fishing buddy, Jeff Goodin. He is also survived by a host of nieces, nephews, cousins, great-nieces and nephews, extended family and many, many friends.
Funeral services will be held at 2 p.m., Friday, December 23, 2022, at Memorial Gardens Funeral Home Chapel in Sheridan with Bob Bradford and Alex Bradford officiating. Burial will be in Poe Cemetery, near Sheridan. Visitation is Thursday, 6-8 p.m.
Pallbearers are Jason Mitchell, Justin Mitchell, John Smith, Jeremy Thomason, Ethan Mitchell, Brandon Hill. Honorary pallbearers are Arkansas Fly Fishers, Don Nutt, Donald McDonald, Nancy McDonald, his many nieces and nephews.
Memorials may be made to Poe Cemetery Association.
Published December 21, 2022
OBITUARY SUBMITTED BY:
Memorial Gardens Funeral Home
2686 Hwy 167 North, P.O. Box 540, Sheridan, AR
Phone: 870-942-1306