Victoria Monzon-Cochran
of Little Rock, AR, 1951 - 2022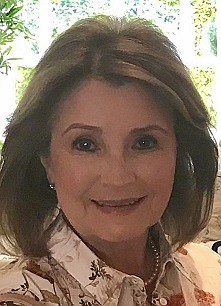 Victoria Monzon-Cochran passed away on December 16, 2022. She died peacefully surrounded by her family. She was a loving and most devoted wife, mother, "abuelita" and friend to many.
Born in Guatemala City, Guatemala, on April 23, 1951, Victoria moved to Arkansas in 1972. After a period of time living in Minnesota and Guatemala, she returned to Little Rock in 1981, where she lived for the remainder of her life. She was a Spanish teacher who went on to be a Spanish interpreter at the Arkansas Children's Hospital for 20 years.
She is survived by her husband Richard L. Cochran, Sr.; daughters, Marisol Sotomora Kalina (Jeff Kalina) of Los Angeles, Clarissa Sotomora Turner of Memphis; and son, Ricardo Jose Sotomora of Los Angeles; grandchildren, Estelle Turner, Henry Turner, and Miles Kalina; stepdaughters, Michelle Martindill of North Little Rock, Mimi Counce (Sam Counce) of Hot Springs; and stepson, Richard L. Cochran, Jr. (Leslie M. Cochran) of Little Rock; step-grandchildren, Evan Moore, Carli Moore, Trey Cochran, and Clay Counce. She is also survived by her brother, Jose Monzon of Guatemala City.
She was preceded in death by her beloved parents; and her brother, Raul Monzon.
Funeral services will be held at Holy Souls Catholic Church in Little Rock on January 6, 2023, at 10:30 a.m. In lieu of flowers, the family requests donations be made to the Leukemia & Lymphoma Society (lls.org) or to the Arkansas Children's Foundation (archildrens.org). To sign the online guestbook and view the full life story of Victoria, please visit www.rollerfuneralhomes.com/chenal.
Published December 22, 2022
OBITUARY SUBMITTED BY:
Roller-Chenal Funeral Home
13801 Chenal Parkway, Little Rock, AR
Phone: 501-224-8300
http://www.rollerfuneralhomes.com/chenal