Marjorie A Twohig
Naples, FL, 1930 - 2022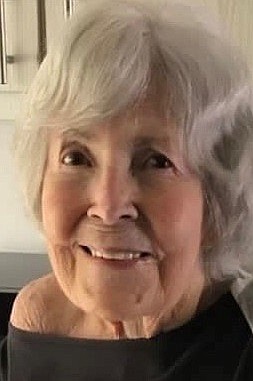 Marjorie A. Twohig, 92 of Naples, Fla., died December 8, 2022 at home. She was born on February 10, 1930, in Claremont, N.H., to Henry McCusker and Helena Malborne McCusker.
She was preceded in death by her parents; her son, Ralph S. Breakey III of Fayetteville, Ark.; and husband James D. Twohig of Naples.
A graduate of Westbrook Junior College, she worked for the Ford Motor Company in the accounting department before marrying Ralph S. Breakey, Jr. of Monticello, N.Y. She later married Air Force Master Sergeant Mitchell Nawojczyk of Claremont, N.H. In 1999, she married James Twohig, and they lived in Naples, Fla., until his death in 2016.
Marjorie was devoted to her children, making homes in New York, Florida, South Dakota, Taiwan, Texas, and Arkansas. Artistic throughout her life, she worked as a florist in Fayetteville, and later as a caregiver for her mother and others. Marjorie loved writing cards and letters to friends and family, read the paper daily, and was known for her cheerful demeanor and a sharp wit. Her positive outlook was an inspiration to all who knew her.
She is survived by her son, John Breakey and wife Laurie Grimmelsman of Wilmington, Del.; daughter, Kara Nawojczyk Laufer and husband Gregg and granddaughter Madeline of Naples; daughter, Deborah Breakey Henderson and husband Joel and granddaughter Jennifer Harp and husband Galen and great-granddaughter Gretchen Harp, all of Fayetteville, Ark. She is also survived by stepsons, Steve Nawojczyk of Little Rock, and Mitch Nawojczyk of Houston; her sister, Janet Wansker of New Hampshire; and several nieces and nephews, plus her favorite cousin, Claire Bennett of Sunapee, New Hampshire.
Cremation services were provided by Legacy Options of Naples, Fla. A celebration of Marjorie's life will be held in Fayetteville in the spring with internment at St. Paul's Episcopal Church.
Published December 28, 2022