William Hastings Bransford, III
of Little Rock, AR, 1953 - 2022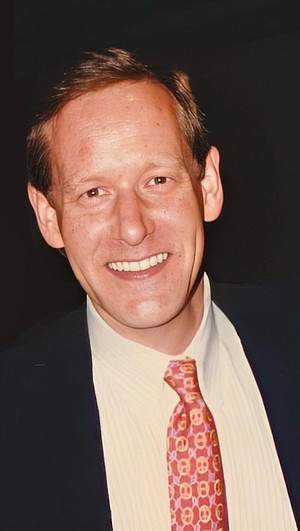 On December 13, 2022, WILLIAM HASTINGS "HASTY" BRANSFORD, III took the final bow of what he called his magical mystery tour after a long fight with dementia and Parkinson's disease.
The first lines of The Book of Hasty were written on May 12, 1953, when he was born to Frances Moses Bransford and William Hastings "Big Bill" Bransford Jr.
At age 10, his family moved from Lonoke to Little Rock. He attended grade school at Williams Magnet Elementary School and graduated from Hall High School in 1971. He spent a year at Virginia Episcopal Preparatory School in Lynchburg, Va., before returning home to earn a degree in Film and Television Broadcasting from the University of Arkansas, Little Rock.
In 1982, Hasty became "Dad" for the first time with the birth of his eldest daughter, Susan. He would later have another daughter, Caroline, and a son, William Hastings Bransford, IV. He would tell you that becoming a father was his greatest accomplishment.
If his three children were his greatest accomplishment, becoming Pop-Pop to four grandsons amplified his pride and joy to unimaginable levels. They became his purpose in life.
Hasty Bransford unabashedly lived life his way. For him, service to others far outweighed the material and his love for his family was unparalleled. And as we turn the final page in The Book of Hasty and reflect on the life of a man whose unselfishness, kindness, and compassion made the world a better place, we can take comfort in knowing that he's enjoying a Saltillo plate from Browning's with a cold "Mexican Coke"…in a glass bottle…, reunited with those family members who left this earth before him, and on his way to go scuba-diving in the great beyond. Enjoy it, old man! You will forever be missed but you will NEVER be forgotten.
Hasty is predeceased by his grandparents, Colter Hamilton Moses and Lena Goodwin Moses; Bessie Walt "BeBe" Bransford, his beloved grandmother, and William Hastings Bransford, Sr; as well as his parents, Frances Moses Bransford and William Hastings Bransford, Jr; his brother, Lawson W. Turner III; and a cousin, Whitman Bransford. He is also predeceased by his cherished dog, Charlie.
He is survived by his sisters, Mary Moses Sours and Frances Beth Bransford, both of Chico, Calif.; his children, Susan and Erik Long of Little Rock, Ark.; Caroline and Kenny Thompson of Charlotte, N.C.; and William Hastings Bransford, IV of Fayetteville, Ark. He is also survived by his four grandsons, Colter Benjamin Long, Alexander Bransford Long, Wilson Elwood Long, and George Kennedy Thompson, III, as well as several cousins, nieces, and nephews.
The family would like to express its gratitude to The Greenhouse Cottages at Poplar Grove, as well as Hospice Home Care, and all those who took part in his care, for the respect and kindness they paid him over the last number of years. In addition, to all his friends and family who continued to be a part of his life, and who never wavered in their love and support for him, thank you!
His daughter, Susan, would especially like to thank his sister, Beth, who spoke with Hasty every day, and without whom the last seven years would have been exponentially more difficult.
William Hastings "Hasty" Bransford, III was an angel in the shape of a man – a man whose family was always proud of him for who he was, for the father he was, and for the grandfather he was…and a man who could be proud of himself for the life he lived, the way he lived it, and the legacy he would leave behind.
A graveside service will be held in Lonoke, Ark., at the Lonoke Cemetery at a later date. All family and friends are invited to attend once those details are finalized.
In lieu of flowers, the family encourages those who wish to honor Hasty's memory to donate, volunteer or otherwise get involved with Our House. Please visit ourhouseshelter.org or call 501-374-7383.
A full obituary can be viewed at ReubelFuneralHome.com.
Published December 29, 2022
OBITUARY SUBMITTED BY:
Ruebel Funeral Home
6313 West Markham Street, Little Rock, AR
Phone: 501-666-0123
http://www.ruebelfuneralhome.com