Alice J. Andrews
El Dorado, AR, 1946 - 2021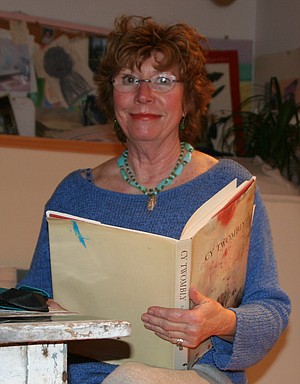 Alice J. Andrews, age 75, daughter of Mary & L.D. Andrews, bid farewell to family and friends on Sunday, December 5, while doing what she loved most – hiking on the Lost Valley trail near the Buffalo National River, immersed in nature.
Alice was born in El Dorado and continued to maintain her family home. She spent winters there, among the tall pines and quiet woods that inspired her. She also loved the sweeping beauty of the Boxley Valley in northwest Arkansas where, in 1993, she purchased and restored a historic 19th century house on Beech Creek as her artist's retreat. For forty years, she hiked almost every trail and bushwhack in the Upper Buffalo area. She was a longtime member of the Ozark Society, Highlands Chapter, and loved to entertain fellow hikers at her home after excursions. Visitors were charmed by her wonderful meals and collections of eclectic objects – from pottery to old letters and stamps, rocks, textiles, and colorful art.
Alice was an accomplished painter, known for her diverse subjects - scenes of nature, works inspired by family stories and indigenous cultures, and her many beloved pets. Angels were a recurring theme, along with waterfalls and streams, cows and goats. Her very popular Cow Series was often painted in fields near Guy, Ark. Trees were brought to life when she viewed them as unusual shapes of limbs and trunks. Her talent in creating delightful paintings revealed a natural-born artist. As the years passed, her interest and style expanded toward modern, contemporary and abstract art.
Alice graduated from Henderson College in Arkadelphia and worked as a graphic artist at Cranford Johnson Advertising Agency, creating artistic ads. At Maryland Institute of Art, she earned a Master of Fine Arts degree, studying under the abstract expressionist painter Grace Hartigan. Her honors include a residency with the Wurlitzer Foundation in Taos, N.M., a Wolf Kahn fellowship in Vermont, a grant at the internationally famous San Miguel de Allende Art Institute, and a selection for show by the San Francisco Museum of Modern Art.
Beyond her artistic life, Alice loved being outdoors in the natural world – hiking, kayaking, wading in Beech Creek behind her home near Boxley. Here, she found everything dear to her – a place for peaceful meditation, inspiration in observing the flora and fauna, especially birds and hummingbirds; feral pigs crossing her yard, elk eating up her garden.
Alice was an avid hiker with the Ozark Society, actively engaged in outings as well as generously donating paintings for Ozark Society fund-raising projects. She was a strong and faithful advocate for protecting and preserving the beauty of Arkansas and our amazing planet earth.
Alice's artwork will continue to be cherished in homes and hospitals, corporations, and universities throughout Arkansas and the United States. Her work, and the joy it brings to the viewer, is her greatest legacy to this world.
She wrote of herself: "I have always had a connection to nature and a need to be surrounded by it. My paintings come from the need to make a mark, like drawing in the dirt, or like scratches made on cave walls, a primal drive to create something out of emotions, to make the spirit visible. Cave drawings, rock art, and old surfaces all inspire me. I work from my dreams and family life, or just from the pleasure of using color, line, and form."
Alice is survived by her sister, Katie Andrews Neill of California and her family; and the many cousins and friends with whom she shared close relationships. She was a loving person who found peace in nature and would pause to appreciate it with you. Her life and her art will be deeply missed. May God bless all who shared their loving kindness with her.
Cremation Arrangements Entrusted to Arkansas Cremation. www.ArkansasCremation.com.
Published January 2, 2022
OBITUARY SUBMITTED BY:
Cremation Association of Arkansas
201 N. Izard, Little Rock, AR
E-mail: craig@ARcremation.com
Phone: 501-753-3200
http://www.ARcremation.com/