Patsy Laverne Nelson
Fayetteville, AR, 1938 - 2022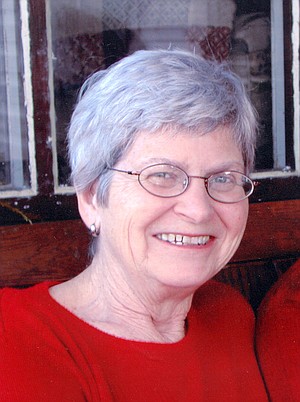 Patsy Laverne Nelson, age 83, passed away Tuesday, January 18, 2022, in her hometown of Fayetteville. She was born April 7, 1938, in Booneville, Ark., to Hedrick and Sylvia Glass Smith.
Laverne graduated from Booneville High School and attended college for one year in Hattiesburg, Miss., before transferring to Oklahoma Baptist University, where she majored in art education and minored in Spanish. She was on the Dean's and President's honor rolls and received the 1958 Creative Arts Award. She was active in campus activities and was a member of Kappa Pi, Young Woman's Auxiliary, Spanish Club, and the Kardain-Lathean social club. After graduation, Laverne moved to Portales, N.M., and taught art and Spanish while enjoying cooking regional dishes. While traveling home, she became reacquainted with Talmadge Nelson and enjoyed spending time with him at the only available social venue in Booneville – the local little league games. They wrote to each other often and Talmadge proposed in a letter by suggesting she move with him to Glenview, lllinois, so he could take care of her.
They eventually settled in Fayetteville and Laverne traveled to Siloam Springs for five years to teach art and history at the junior high. She then moved on to the Bumpers College at the University of Arkansas, where she worked as a research associate for 13 years. She completed a master's degree in child development during this time and later mentored many graduate students and encouraged them in their own journeys.
Laverne served as editor for more than ten years for the statewide publication, Beginnings, a publication that was distributed to all licensed child care facilities in Arkansas. One of the highlights of her career was conducting research for the nationally acclaimed and Emmy-nominated documentary, Sanatorium Hill, produced by journalism professors Larry Foley and Dale Carpenter, which shed light on the victims of tuberculosis who were isolated in the state sanatorium in Booneville. Her research is a part of Special Collections at the U of A. In 2000, Laverne received the Outstanding Staff Award in the Bumpers College, and in 2004, the Board of Trustees passed a resolution naming her a program associate emeritus of the university.
In addition to her work at the university, Laverne enjoyed a successful career as an artist. She was a member of the Artists of Northwest Arkansas and enjoyed the community of artists in the region, including the Plein Air Painters. She loved painting outside and treasured the nature walks at Frank Sharp's home and his handmade pizza. She exhibited many of her works and won several awards. Laverne's true passion combined her artistic gifts with her training in childhood development to provide art education for children. She taught hundreds of children through her Nelson Art Camp for more than 15 years.
Laverne moved into retirement with an energy and enthusiasm few people could match. She continued her art camp, now adding grandchildren and their friends as students first and then helpers. She embraced the social opportunities that Fayetteville had to offer. Laverne loved to read, paint, eat, and drink, and she loved to discuss politics and current issues. She was an active member of the University Women's book club and especially enjoyed her Food for Thought book club with its monthly meals and wine. Her "Thursday night travel group" met for dinner to socialize and plan trips. Her trips "out west" to see the desert landscape became the inspiration for many of her watercolors.
In June 2020, Laverne was diagnosed with bulbar onset ALS, but she remained undaunted both by this diagnosis, and by the pandemic, which disrupted all aspects of life. She held weekly Monday afternoon happy hours outside with the winos, continued to attend her book clubs, took a "girls" trip to the Kings River with her travel group friends, continued to paint, and kept her spunky spirit and beautiful smile.
The family is grateful to all her friends and extended family who came to visit and took her on cherished country drives. Her caregivers from La Grande Living and the staff at Circle of Life Hospice provided great comfort over the past year.
Laverne is survived by her husband, Tal Nelson; her daughter, Katy Nelson-Ginder and her husband Grant of Fayetteville; two sons: Matt Nelson and his wife Desiree of Fayetteville and Sam Nelson of Saint Louis, Mo.; one sister, Mary Hummer of Oklahoma City; five grandchildren: Austin Zimmerman, Moxie Liles, Rees Nelson, Rebekah Nelson, and Ruthie Nelson.
A graveside service will be held at 11 a.m. on Monday, January 24, 2022 at Son's Chapel Cemetery in Fayetteville, under the direction of Moore's Chapel in Fayetteville.
Memorial contributions may be made to the Fayetteville Public Library: www.faylib.org/foundation, and University Libraries Special Collections Department at: https://giving.uark.edu.
To place an online tribute, please visit: www.bernafuneralhomes.com.
Published January 23, 2022
OBITUARY SUBMITTED BY:
Moore Chapel
206 West Center Street, P.O. Box 1149, Fayetteville, AR
Phone: 479-442-7314