Beverly "Jean" Kirkham Sheneman
Palm Desert, CA, 1934 - 2022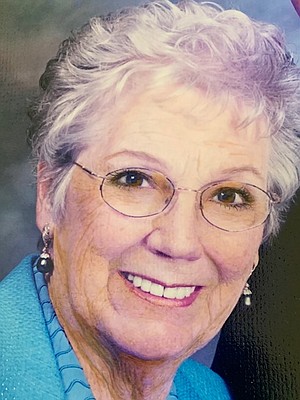 Beverly "Jean" Sheneman (Kirkham), 88, passed away peacefully Sunday, June 19, 2022, at her home in Segovia of Palm Desert, Calif., following a brief illness. She is preceded in death by her husband of 59 years, Wayne Sheneman, and oldest son Kirk Sheneman in March of 2013. She leaves behind her son Terry Sheneman of Palm Desert, Calif., her sister Betty Craddock of Athens, Ohio, niece Lisa Craddock-Thitoff and her husband Steve and daughter Jamie of Minerva Park, Ohio, nephew Mike Craddock and fiancé Lisa Mellott of Athens, Ohio, and nephew David Craddock and his wife Xiao Ling and children Evelen and Samual of Ashburn, Va., daughter in law Della Noah, of Janesville, Calif., grandson Joshua Sheneman of Blythe, Calif., and grandson Derrick Noah and his wife Nancy and great grandchildren Valen and Agustin of Janesville, Calif., and her granddaughter Karina Noah-Green and her husband Ryan of Abilene, Texas, brother in law Dale Sheneman and nephew David Sheneman of Oklahoma City, Okla., and many close friends in the Palm Desert, Calif., and Northwest Arkansas areas.
Born in North Little Rock, Ark., in the early thirties, Jean was always willing to go anywhere, anytime, to DO almost anything. Throughout life, Jean was a "doer" no matter what was going on. Jean also had a smile and twinkle in her eye that would light up the room and was always friendly and cordial with anyone she encountered. Jean met her lifelong partner Wayne while attending Park College in Kansas City, Mo., and they instantly knew they would be together for life. When Jean and Wayne made the commitment to be together, it became a solid partnership that endured for 59 years. Everything they did was with the other in mind. Both had very modest lives growing up and they knew what struggles were ahead and they tackled life together as an equal partnership, always. Decisions were made by both in full agreement. Following Wayne's graduation from Park College, he joined the Army and they traveled to Germany for two years, during which time their oldest son Kirk was born. After Wayne completed his service, they returned to the states and moved to Boston for Wayne to get his Master's Degree at Harvard and then settled in Houston, Texas for a few years working in the oil business and their youngest son Terry was born during this time.
Jean and Wayne then moved to Northwest Arkansas in the mid-1960's where Wayne accepted a position as CFO of Cooper Communities, Inc. where they would work and raise two rambunctious boys. Wayne remained with Cooper Communities until his retirement and served on their board for several more years. Jean was active in PEO and numerous other clubs and groups around the area such as Gourmet Club, PTA, and they hosted many gatherings where Jean would prepare gourmet meals for everyone. Sometimes, it was fifty or more people, and she did the cooking. Jean had a love and passion for food, travel, nature, and exploring new adventures. She was active in tennis with Wayne for many years and continued to play into her late sixties. After retiring, Jean and Wayne ultimately settled in the Palm Desert, Calif., area in 1990. During their retirement, Jean was active as a docent for twenty years at The Living Desert in Palm Desert. They traveled extensively during this time and spent most summers in Carmel and Carlsbad, Calif. She continued being active in PEO and became active in numerous other charitable projects around the community including College of the Desert; education was a major focus for Jean and Wayne from the very start. After Wayne's death in 2013, Jean remained active in many activities including being a formidable bridge player. She was a doer until the very end and will be dearly missed by all who knew her.
A private memorial service for immediate family is pending.
Memorial gifts can be given in Jean Sheneman's name to the COD Community Memorial Scholarship Fund, c/o College of the Desert Foundation, 43-500 Monterey Ave., Palm Desert, Calif., 92260; or College of the Ozarks, Development Office, P.O. Box 17, Point Lookout, Mo., 65726.
Published July 3, 2022