Forrest Duane Goddard
Fayetteville, AR, 1946 - 2022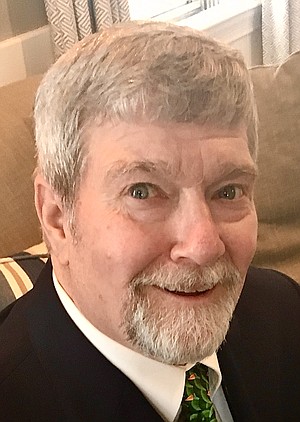 Forrest Duane Goddard died at Washington Regional Medical Center on June 23, 2022. He was born on February 6, 1946, in Poplar Bluff, Mo., to Forrest Jackson Goddard and Mary Lula (Greer) Goddard, the oldest of ten children and two adopted children.
He grew up in St. Louis, Mo., and graduated from Christian Brothers College High School. He played football for Washington University and rugby at St. Louis University and coached both sports. With his father and some of his brothers, he worked as a printer part-time while he was in school, and later full-time.
In his twenties, he moved to California with his first wife, Carrol, and their son, Ben. He continued to work as a printer and later sold printing equipment and supplies, traveling in his private plane. He loved flying and wanted to be a commercial pilot, but was disqualified by color-blindness.
With his partner, Johanna Bracken, he founded Match Mail, a mass-mailing company, and eventually became sole owner. Because most of his employees were originally from Mexico, he wanted to learn Spanish and enrolled in a total-immersion program in Guadalajara. Nearby, he met his second wife, Doria, and her children, Ulices and Abby, whom he adopted when they were four and two years old. They lived in Vista, Calif., until 2012, when he moved to Fayetteville to help his aging parents.
He took courses at the University of Arkansas and particularly enjoyed history and economics. Although his family called him Duane to distinguish him from his father, who was also Forrest, the University listed him as Forrest and he liked and reclaimed that name.
He met Barbara Taylor when he came to the Morning Star Zen Center for an orientation. In 2015, they reconnected when he texted her and met her at the airport when she returned from a trip. They soon became inseparable and had many adventures together. They visited Forrest's children and nephew, Brian, in California; went to Costa Rica with Barbara's yoga group; attended a wedding in Marblehead, Mass., took a complicated train and bus journey to Yosemite, a place where Forrest loved to camp and hike, drove to St. Louis and to Missouri lakes for family get-togethers, went on an autumn genealogical road trip with Forrest's brother, John, and explored many places in Northwest Arkansas together.
Forrest enjoyed going to the Walton Arts Center and Theater Squared, exploring the Fayetteville Public Library, visiting the Botanical Garden of the Ozarks, going to Crystal Bridges Museum of American Art, and the Museum of Native American History, looking at old cemeteries, seeing Civil War battle sites and driving around the countryside.
Not long after he moved to Fayetteville, Forrest was diagnosed with Parkinson's disease. Although his symptoms were mild at first, the disease progressed and in the fall of 2021, he moved into a nursing home. Barbara visited him daily and John came to see him several times a week. They took him out for meals, theater performances, shopping, and for rides. Barbara brought the dogs to see him and, when Covid permitted, their great-granddaughter. His death came sooner and more quickly than they had anticipated.
Forrest was preceded in death by his parents, by his sister, Andrea Fox; by his son, Benjamin Goddard; and by his stepson, Lev Desmarais. He is survived by his children, Ulices Goddard (Wilfar) and Doria Abigail Goddard; by his wife, Barbara Taylor; by his sisters, Donna Meyer (David), Susan Cardwell (Paul), and Joan Spencer; by his brothers, Patrick (Teresa), Daniel (Christina), John (Jill), Christopher (Helen), Gregory (Janet), Jeffrey (Angie), and Michael Goddard; by his grandchildren, Jeremiah, Brannon, and Francesca Goddard; by his step-children, Jennifer Enos (Henry), Keefe Jackson (Amelia), and Margot Lemaster (Jordan); his step-grandchildren, Corinne McKimmey, Nathan Enos, Kailani Enos, and Roman Lemaster; his step great-granddaughter, Kauri McKimmey; his sister-in-law, Nancy Ruma (Joseph); and by many nieces, nephews and great-nieces and great-nephews; as well as by many friends.
Forrest was a charming, interesting, funny, smart, kind man, who was very brave in dealing with his illness. He donated his body to a medical school as a last act of generosity. The family will hold a memorial gathering sometime in early 2023.
Published July 3, 2022