Virginia Carroll Turnbull
Tallahassee, FL, 1945 - 2022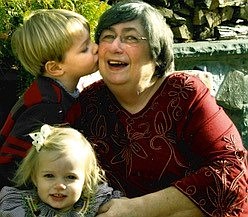 Former Little Rock resident, Virginia Carroll Turnbull, 77, passed away peacefully on June 16, 2022 at Westminster Oaks in Tallahassee, Fla. Virginia and her husband raised their two children, Heather Turnbull and Andrew Turnbull, in Little Rock, and was a member of Christ Lutheran Church. Virginia loved children and ran a day care for many years and enjoyed keeping in touch with those children as they grew into adults.
After living in Little Rock until 2010, Virginia relocated to Alexandria, Va., when her first grandchild was born. Her son, Andrew Turnbull, and his wife, Sherwood Harney Turnbull, still reside in Alexandria, Va., with their two children, Dane-12 and Hadley-10. The grandkids were the biggest joy to Virginia. Fortunately, she was able to recently visit with them in person during their spring break and FaceTime with them often during her final days.
Virginia lived with Andrew and Sherwood until 2019, when her health began to fail. At that time, she moved to Tallahassee, Fla., where she resided in an assisted living facility close to her daughter. Family was the most important thing to Virginia, followed closely by her beloved LSU Tigers. Although her health did not allow her to participate in social media, she loved receiving extended family updates through her sister. Virginia also took great pride in having a front row seat to watch her children and grandchildren's accomplishments that were achieved in large part thanks to the foundation, love and guidance she provided. Virginia also maintained her deep religious beliefs throughout her life and reflected often on the wonderful memories and fellowship she received through Christ Lutheran Church.
Her family is planning a Celebration of Life in Baton Rouge, La., in September, where she will be put to rest next to her husband, Robert G. Turnbull, deceased 2004. Virginia is survived by her sister, Alice Carroll Lax of Baton Rouge, La.; and children, Heather Turnbull of Tallahassee, Fla., and Andrew Turnbull and his family of Alexandria, Va.
In lieu of flowers, donations may be made to the Parkinson's Foundation at www.parkinson.org in her memory. Virginia adored her baby sister, Alice, who lives with Parkinsons, and would do anything to ensure the crucial resources they provide are available to her and others.
Published July 3, 2022