Paula Diann Smith Yocum
Little Rock, AR, 1958 - 2022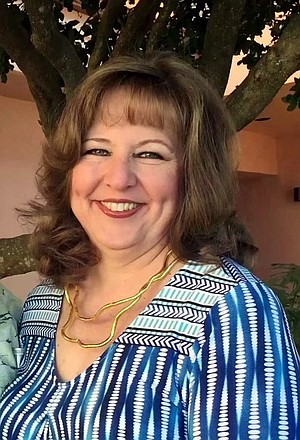 "In a world where you can be anything, be kind." Paula Diann Smith Yocum, embodied this quote until she ran pain-free into the presence of Jesus and her beloved husband, "Scotty", on July 1, 2022. With a pair of dimples to complement her stunning smile and endearing eyes, a beacon of light entered the lives of David Paul and Alice Janice Smith on April 16, 1958. From that magical year on, the sibling bonds between Paula, her brother, Keith Smith (m. Teresa), and sister, Pam Blake (m. Earl Blake) were full of memories and laughter. Paula adored her big brother and baby sister. For 64 years, Paula retained a natural, enigmatic ability to radiate joy in the lives of others. Elected as Homecoming Queen by friends and classmates in El Dorado High School's 1976 graduating class, her life was a platform that God placed her on as she was full of the gifts of encouragement and fierce love given from Him.
What began as a blind date in a private hut at the Hush Puppy Restaurant in Camden with Henry Scott Yocum, III, became 34 years of a world-changing marriage. Paula and Scott united in marriage on July 22, 1983. The El Dorado community and family is forever blessed by the union of these two, smitten love birds. Scott often referred to his bride as 'Pollyanna' because of her quest to find the good in everyone and everything. Many of Paula's fondest memories and friendships transpired within the walls of the Murphy Oil building where she served as an administrative assistant for years. It was in 1986 that Paula received her dream job title as 'Momma' when Lauren Michelle Yocum was born. In 1989, Paula's role as 'Momma' was rewarded again with the birth of Melissa Ann Yocum.
A dedicated servant to her community through El Dorado Service League, First United Methodist Church, and Chemo Angels, Paula's servanthood multiplied ten-fold as she discipled and nurtured her daughters through their every day. From hauling girlies to dance, choir practice, and school in the station wagon, to leading Camp Fire groups for over a decade, Paula never skipped an opportunity to serve. Lauren and Melissa can remember watching their momma in the halls of Southside Elementary hanging artwork or setting up communion early on Sunday mornings. Like her husband, Scott, Paula never wanted the spotlight or accolades of praise, but she did want to give seemingly irrational quantities of her time, energy, resources, and love, at endless rates.
Not having sons by blood did not stop Paula from treating young men as sons of her own. She especially adored her sons-in-law, Austin White (Lauren, m. 2009) and Corey Hickson (Melissa, m. 2016). As a mother-in-law, her ability to be an unfailing source of encouragement will continue to bless her sons.
A lover of giraffes, all things bright and colorful, and her puppy dogs, Honey and Sassy, Paula could always find a childlike wonder throughout God's creation. Her ability to stuff a twenty-four-inch, Christmas stocking with fifty items was something of a magic trick. Paula's Easter-egg-hiding-talents were unmatched. It has never been uncommon to discover an unfound egg or two, months following the big hunting event. Paula's skillsets in life were as vast as the colors in a daily sunset. Paula's family kept her world in orbit. And though it seems hard to believe that she could be any more in love with children other than her own Lauren, Austin, Melissa, and Corey….believe it! A framed piece of artwork hung in Paula's living room that confirmed it, "My Greatest Blessings Call Me YaYa." Those blessings include granddaughters, Emmie Vera White, Atalie Faith White, Julianna Scott White, Harper Annette Hickson, and Henley Elise Hickson. The giggles, energy level, and strong wills brought on by these five beauties gave life to YaYa every single day, and most certainly after losing Pappy in June 2018. A bountiful, Kingdom-minded perspective will live on for decades, thanks to YaYa's everlasting outpour of love and availability for her granddaughters. YaYa's selfless, purposeful, and joy-filled spirit will absolutely be missed, but her legacy will undoubtedly flourish through generations to come.
Visitation will be held from 5-7 p.m., Friday, July 8, 2022, in the Hanna Building at First United Methodist Church of El Dorado. Funeral services will be held at 2 p.m., Saturday, July 9, 2022, at the church with Rev. David Bush officiating. Burial will follow at Arlington Memorial Park under the direction of Young's Funeral Directors. Memorials may be made to the First United Methodist Church, 201 S. Hill Ave., El Dorado, Ark., 71730, or to the Union County Animal Protection Society, 1000 Sunset Rd., El Dorado, Ark., 71730. Fond memories and expressions of sympathy may be shared at: www.youngsfuneralhome.com for the Yocum family.
Published July 6, 2022
OBITUARY SUBMITTED BY:
Young's Funeral Directors
508 Champagnolle Road, El Dorado, AR
Phone: 870-863-7121
http://www.youngsfuneralhome.com