Troy Wesley Floyd Stinson
Elkins, AR, 1936 - 2022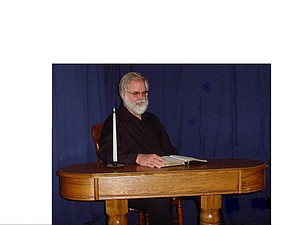 Troy Wesley Floyd Stinson, 85, of Elkins, passed away at his home on July 3, 2022. He was born on September 13, 1936, in Bakersfield, California, to Reverend and Mrs. Howard Floyd Stinson. Troy grew up in Taft, California, and played football in High School and College. He moved to Sunnymead (now Moreno Valley) when his dad started pastoring the Pentecostal Church of God in 1955. He was an active PYPA member. He met Hilda and they married on January 25, 1958. Troy then became the young people's leader at the church, and he was a good one. He later became a teacher then Sunday School Superintendent, at which he excelled. Troy worked for Riverside Utilities from 1956 to 1992 when he retired. He started out at the very bottom changing light bulbs in the streetlights and worked his way up to the very top in his field. He went to night school at Riverside City College during the early stages of his career.
He was a member of Living Hope Assembly in Elkins and was Sunday School Superintendent for many years. Troy was an active member of the Gideon ministry, always enjoying the ministry of passing out bibles and ministering to the lost. After retiring to farm life, he enjoyed his new duties as a farmer. As the great-grandchildren started showing up, there was no greater joy for him than to have a small child on his lap or his shoulders and walking and rocking them with a song. As they grew, he shared his love of horses with each one, particularly his favorite Arabian Mindy. He had an infectious smile and a joy for life that was contagious. He was a well-respected member of the community and a strong and loving leader of his family. He will be greatly missed.
Troy is preceded in death his parents; sister, Naomi Jean Silva; and grandson, Justin Allen Floyd Stinson. He is survived by his wife, Hilda Mae Harmon Stinson of the home; two sons, Kenneth Floyd Stinson of Elkins and Kevin Paul Stinson of Elkins; two granddaughters, Jennifer Ann Stinson and Jason Lee Travis of Elkins and Shannon Marie Betrue and Neil Betrue of Surprise, Arizona; seven great-grandchildren; two great-great- grandchildren; sister, Carolyn Loraine Heden of Spokane, Washington; and one nephew, David Silva and wife Lori and six children of Elkins; two nephews and a niece of Washington.
No visitation is scheduled. Funeral Services will be held at 2 p.m., on Thursday, July 7, 2022, at Living Hope Assembly in Elkins. Burial will follow at Stokenbury Cemetery in Elkins under the direction of Moore's Chapel Funeral Home. You may leave an online condolence at: www.bernafuneralhomes.com.
Published July 6, 2022
OBITUARY SUBMITTED BY:
Moore Chapel
206 West Center Street, P.O. Box 1149, Fayetteville, AR
Phone: 479-442-7314