John David Rather
Little Rock, AR, 1944 - 2022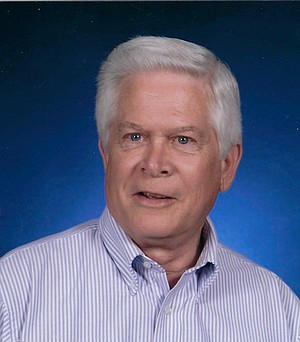 John David Rather, 78, of Little Rock, joined his brother, Doug, in God's beautiful outdoors in Heaven on Saturday, July 2, 2022. He was born on March 6, 1944, in Albuquerque, N.M. He moved to Hot Springs on his sixth birthday in 1950, where his father became a National Boy Scout Executive at the Ouachita Boy Scout office.
He leaves behind his wife of nearly 57 years, Rebecca Harrison Rather; his devoted daughters, Nicole Capri of Little Rock, and Melissa Rather Brown of Little Rock; and his pride and joys, his three grandchildren, Mason Douglas Darr, John Logan Rather Darr, and Lillian (Lily) Elizabeth Brown; brother-in-law Richard (Marcia) Harrison of Burleson, Texas; sister-in-law, Shirley Rather of Rogers, Ark.; niece, Staci Phillips of Rogers, Ark.; nephew, Mason (Claire) Rather of Sherman Oaks, Calif.; niece, Kirsten Harrison of Dallas, Texas; and several great-nieces and nephews. He also leaves several wonderful and fun crawfish-eating cousins, all originally or currently from south Louisiana.
He was preceded in death by his parents, Walter L. and Elizabeth Rather of Hot Springs; his brother, W. Douglas Rather of Rogers; and nephews, Rad Harrison, David Karenbrock, and Doug Karenbrock, all of Texas.
John loved the outdoors and was so happy to finally get to be the grandfather he never knew. He taught his two grandsons to act like men and taught all three of his grandchildren the love of hunting and fishing and all of God's blessings on us. Our family spent a lot of time and miles traveling in two different RVs, pulled fishing boats and ski boats, and visited landmarks, state parks, rivers, lakes, and oceans, and anywhere he could share his love and knowledge of the great out of doors.
He was always willing to lend a hand and learned honor and helpfulness from his father and his years in scouting. He achieved the rank of Eagle Scout and received his God and Country Award before graduating from Hot Springs High School in 1962. He attended college at the University of Tulsa, where he met his bride Rebecca and graduated from Little Rock University (now UALR) before entering the Army.
After the births of his two daughters, the family eventually ended up living in Little Rock in 1973, and he worked in a variety of sales and marketing for pharmaceutical and insurance companies. He retired in 2009, and he and Rebecca continued to travel all over the United States and Canada, including eight adventures to Alaska, where he was able to hunt and fish in true wilderness fashion. He will be greatly missed by all who knew him, and those who knew of his legendary adventures and stories.
At his request, he will be cremated and his remains placed in a Folger's coffee can, to be scattered by his grandchildren. A memorial will be held on July 16, at 2 p.m. at Henderson United Methodist Church, 13000 Baseline Road, Little Rock, followed by a visitation at the Family Life Center. In lieu of flowers, memorials can be made to Henderson United Methodist Church or your favorite Veterans' organization.
Arrangements are entrusted to A Natural State Funeral Service. Online guestbook is available at www.anaturalstatefuneralservice.com.
Published July 8, 2022
OBITUARY SUBMITTED BY:
A Natural State Funeral Service
2620 West Main Street , Jacksonville, AR
E-mail: anaturalstatefuneralservice@gmail.com
Phone: 501-982-3400