Christine Catherine Gilchrist McRae
Brooklyn, NY, 1939 - 2022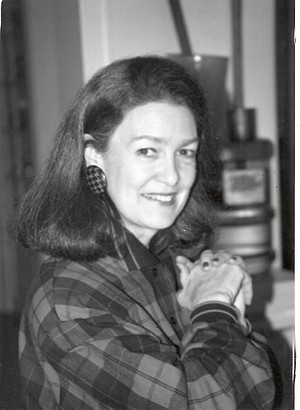 Christine Catherine Gilchrist McRae, was born in Hayle, Cornwall, in England, on November 27, 1939, at the start of the Second World War. Her father, Henry James Gilchrist, served in the Royal Navy. Christine and her mother, May Evelyn Gilchrist (Newton) were evacuated to Scotland for the duration of the war. Christine spent the rest of her childhood in Staffordshire, Burton-on-Trent. She attended the local Girls High School, went to plays in nearby Stratford-upon-Avon, and discovered her love of mountaineering by walking in the hills of Derbyshire. She attended the University of London, Westfield College, graduating in 1963 with a degree in English. The obvious paths–teaching and marriage–were unappealing to her at that moment. Her adventurous spirit stepped forward and set Christine on an unconventional journey that would eventually lead her to both marriage and teaching, just thousands of miles from where she began.
She joined the Voluntary Services Overseas, and taught English at a girls' school in Malaysia. Upon leaving the VSO, she looped around the Middle East, making her way back to England. Atop a pyramid in Cairo, in the spring of 1966, Christine met an extraordinarily tall American, who struck her as a person who could match her wit, intellect, and curiosity about the world. A few weeks later, in Jerusalem she recognized the tall figure of Thomas C. McRae, wearing the same plaid shirt, and thus began a whirlwind courtship that resulted in their marriage on August 28, 1966, at St. Chad's in Burton-on-Trent.
They lived a short time in Washington D.C., where Christine worked at the World Bank. When Tom was offered a job with Model Cities in Texarkana, it wasn't without trepidation that Christine found herself living in the wilds of Arkansas. What she discovered there surprised and delighted her. She was welcomed with open arms into her husband's Arkansas family, dazzling them with her British accent and lively humor. She fell in love with the natural beauty of the state. The happy hours she and Tom spent camping and hiking fueled their lifelong commitment to environmental causes. Christine built enduring friendships, and always held that the most interesting people she ever met, even after traveling the world, were in Arkansas. Christine remained fiercely British in manner and speaking, but a piece of her heart was rooted firmly in Arkansas and it would be her home for the next forty years.
Christine and Tom raised their family in Little Rock where Christine devoted herself with great energy to countless organizations promoting the arts, education, the environment and the welfare of animals. Eventually, Christine turned back to teaching. She earned a Masters in Education from UALR in 1993, and taught English at North Little Rock High School. After Christine and Tom relocated to Greenville, Miss., in 1995, she went back to school a third time for a doctorate in English Literature from the University of Mississippi. In her dissertation, she wrote, "The space of a house or garden can be used as a text and, therefore, a form of discourse for women who inhabit the space to express themselves through written accounts, decoration, house design and locationality." Her insights into three 17th century women poets through the cultural context of their self-fashioned houses and gardens spoke deeply to how she viewed her own agency and self-expression through art, beauty and domesticity. She was indeed an impeccable host, and wherever she lived, created homes filled with beauty, warmth and books. Dr. McRae taught at OBU in Arkadelphia until her husband's death in 2005.
Christine loved her cats, her friends, old houses, Shakespeare, proper English tea, English gardens, travel, poetry, theatre, chamber music, the Anglican Church, mystery novels, and vibrant conversation. She unhesitatingly helped any friend, child, or stray animal in need. Every community she joined was enriched with her enthusiasm and generosity.
Christine died at home in Brooklyn, N.Y., on May 17, after years of living with Alzheimer's. Despite the disease's effects, she charmed people with her sweet demeanor, intent and communicative gaze, and firm grip of the hand. Dr. McRae maintained her strong will until the end, her daughter Catherine and gifted caregivers, Carrol Agard and Marie Green, at her side.
Christine is survived by her daughter, Catherine McRae; son-in-law, Joseph Silovsky (Brooklyn, NY); her son, Thomas McRae, daughter-in-law, Lisa Copping McRae (North Little Rock, Ark.); granddaughter, Tallulah May Silovsky; grandsons, Thomas, Liam, and Gavin McRae; brothers, Ian Gilchrist (Seattle, Wash.), and Alistair Gilchrist (Lincoln, UK); and many adored nieces and nephews. A memorial and celebration of Christine's life will be held at Trinity Episcopal Cathedral in Little Rock, on July 30, 10 a.m.
Published July 10, 2022