James Michael Shaw
Fort Smith, AR, 1934 - 2022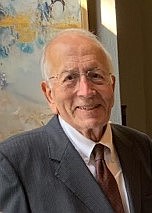 James Michael Shaw was born June 8, 1934 in Paris, Ark., to Bruce H. and Elizabeth Smith Shaw. He graduated from the University of Arkansas with a B.S.B.A degree, Attended George Washington University in Washington, D.C. and the University of Arkansas School of Law. He received his J.D. degree from Arkansas in 1959. He was active in the practice of law in Fort Smith for over 50 years and was President of the Standard Federal Savings and Loan Association and owner and Chairman of the Board of the Bank of Mansfield.
ln college he was selected to membership in the Blue Key National Honor Society, was president of Sigma Chi Fraternity, President of the lnterfraternity Council, President of the University of Arkansas class of 1956 and recipient of the prestigious Central Southwestern Balfour Award from his Sigma Chi Fraternity peers. He was a member of the Arkansas and American Bar Associations, Secretary of the Young Lawyers section of the Arkansas Bar Association and Past President of the Sebastian County Bar Association. He was also a member of the lnternational Association of lnsurance Council and
Defense Research lnstitute. He practiced before various State and Federal Trial and Appelate Courts, the United States Court of Claims in Washington, D. C., the National Labor Relations Board, and the lnterstate Commerce Commission and was admitted to practice before the United States Supreme Court. He served as a Special Justice to the Arkansas Supreme Court and was a State Board Law Examiner for several years.
He was a member of St. John's Episcopal Church and was a leader in the community serving on several Boards including: Advisory Board for Sparks Hospital, Noon Civic Club, Fort Smith Museum of History, Salvation Army, Advisory Board for United Way, Hardscrabble Country Club, Fort Smith Chamber of Commerce and AETN Foundation Board. He served 30 years on the Board of Westark Community College and UAFS of which he was Chairman for several years. He was a 32nd Degree Mason and a member of the Shrine. He was Trustee of the Elizabeth and Stanley Evans and the C.C. and Aline Davis Charitable Trusts.
He was an outdoorsman and enjoyed all sports. He was an avid hunter and fisherman traveling to exotic countries for hunting and fishing expeditions. He was a lover of all music and supported all varieties of music in Fort Smith. He was an enthusiastic Jazz fan and a fan of the New Orleans Jazz
Festival which he attended many times. He was especially proud of the Fort Smith Symphony and the UAFS Music Department.
He was preceded in death by his parents, a brother Richard B. Shaw and a sister Mary Lucinda Sangree, his wife Diane Hughes Shaw and one grandson Spencer Collin Sikes. He is survived by his children: Cindy Stephens and husband Dennis of Nashua, N.H., Melissa Shaw Sikes of Fort Smith, Ark.,
Michael Shaw, Jr. of Seattle, WA and Rachel Shaw Busch of Fayetteville, Ark.; 11 grandchildren and five great-grandchildren.
A memorial service will be held at St. John's Episcopal Church, 10 a.m., Thursday, July 14, 2022. A Celebration of Life reception will follow at Hardscrabble Country Club. Services are under the direction of Edwards Funeral Home.
Honorary pallbearers will be Porter Rogers, Jr., Leon Hill, Steve Wilson, Peter Serodino, Richard Griffin and Benny Barbour.
At the family's request, memorial contributions may be made to St. John's Episcopal Church, 215 North 6th Street, Fort Smith, Ark., 72901 or Donald W. Reynolds Cancer Support House, 3324 South M Street, Fort Smith, Ark., 72903 or UAFS Foundation, Inc., P.O. Box 3649, Fort Smith, Ark., 72913 to The Fort Smith Museum of History, 320 Rogers Avenue, Fort Smith, Ark., 72901.
To leave an online memory, visit www.edwardsfuneralhome.com.
Published July 10, 2022
OBITUARY SUBMITTED BY:
Edwards Funeral Home
PO box 3, Fort Smith, AR
E-mail: edwardsfh@yahoo.com
Phone: 479-782-8203