Eric Scott Stephens
Green Forest, AR, 1985 - 2022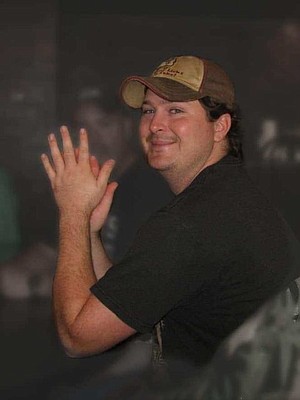 Eric Scott Stephens, 37, of Green Forest, died July 9, 2022, at his home in Green Forest, Ark. Eric was born January 28, 1985, in Fayetteville, Arkansas, to Ronald and Esther Stephens. He was the youngest of three children. He had a good sense of humor, was a good friend and was a beloved husband, father, brother, uncle, and son. He attended Bentonville High School. Eric enjoyed deer camp, fishing, going to the river, and spending time with family. He traveled thousands of miles riding horseback in the John Henry Shaddox Wagon Train for many years as a part of The Wild Bunch. He also competed many times in the Snowy River Race at the Bar Eoff Ranch during the chuck wagon races in Clinton, Arkansas. He was an exceptional horseman, training many equines, and he was a fantastic farrier. He rode in many wagons with his friends and family, and he loved his horse Rebel.
He is survived by his wife, Kristen Stephens of Green Forest, parents, Ron and Esther Stephens of Gravette, two brothers, Jacob and wife Laurel Stephens of Alpena and Keith and wife Julie Stephens of Pineville, Mo., one daughter, Allison Stephens of Rogers, four sons, Kyle Stephens of Rogers, Devyn and Jason Cooper and Cameron Stephens of Green Forest, nephews, Jacob Lee Paul Stephens and Matthew and Riley Stephens along with several uncles, aunts, cousins. Eric was preceded in death by his grandparents, Herbert and Geneva Stephens and James and Wanda Doss, cousins, Cassandra Goff and Melissa Skelton, and his uncle and aunt, Danny and Leona Stephens.
A celebration of life and balloon launch will be held July 30, 2022, in Green Forest. Cremation arrangements are under the direction of Smith Family Funeral Home in Green Forest. Online condolences can be left at: www.smithfamilyfuneralhome.net.
Published July 15, 2022