Donald Wayne "Don" Vail
Fayetteville, AR, 1929 - 2022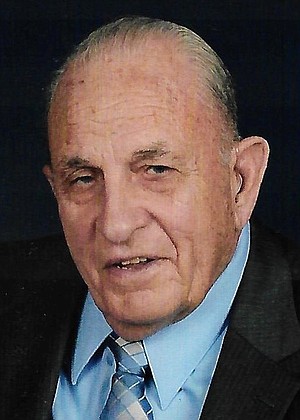 In the early morning hours of Tuesday, July 12, 2022, Donald Wayne "Don" Vail of Fayetteville, Ark., was called home to be with Jesus and reunited with the love of his life, Bonnie Ruth. He died peacefully in his sleep at the Circle of Life Hospice House in Bentonville, Ark., at the age of 93.
Don was born to Frank and Grace Etna (Arbuckle) Vail on June 3, 1929, in Cherry Valley, Mo. Growing up on the family farm Don acquired his skills of plowing, planting, growing and harvesting their crops, mainly corn. In the summer of 1948, he drove to Dodge City, Kan., to harvest the wheat crop for a local family. It was that summer that he met Bonnie Ruth Everhart. They married December 24, 1950, in Dodge City, and moved to the Vail family farm in Missouri.
In 1955, they moved to Bethany, Okla., where he enrolled at Bethany Nazarene College and started working for Lee Way Motor Freight as a city truck driver. He retired after 29 years with Lee Way. Don then drove part-time for Hobby Lobby before fully retiring to travel with Bonnie to visit his children and grandchildren around the country, and continue his love of gardening.
Don loved God and got up every morning at 4 a.m. to read his Bible and pray. It is not a coincidence that he met Jesus face to face at his favorite time of day. Don was a member of the Church of the Nazarene all his adult life. He served faithfully as a board member, council member, greeter, and usher in each church that he was a member.
His grandchildren and great-grandchildren were the light of his life and brought him much joy. Don had a wonderful sense of humor, even till his dying day, and was a wonderful storyteller. He loved yardwork and had a green thumb for everything he touched. He grew the best vegetable gardens, especially corn, cucumbers, green beans and tomatoes, the largest elephant ears, beautiful flower gardens and tenderly took care of the beautiful rose bushes he planted at his wife's request.
Don was preceded in death by his wife of 71 years, Bonnie; his parents; two brothers; and three sisters.
Don is survived by one daughter, Sheila Trusch and husband Nicholas, Jr. of Beaver Falls, Pa.; three sons, Clinton Vail and wife Shirley of Perkins, Okla., Geron Vail and wife Brenda of Fayetteville, Jarrell Vail of Boise, Idaho; one brother, Claude Maurice Vail of Pa.; six grandchildren, Andrea Wilson and husband John, Dustin Vail, Terah Munstermann and husband Dane, Kelby Vail, Nacey York, LaDawn Martinez; and 11 great-grandchildren.
He is also survived by his close friend, Lino Gomez; and his caregivers, Nancy Valencia, Annette French, and Lucy Escobedo; and untold others whose lives were touched by his life.
A graveside service was Friday, July 15, at Mount Comfort Cemetery in Fayetteville under the direction of Heritage Funeral Home, online at heritageofnwa.com.
Published July 16, 2022
OBITUARY SUBMITTED BY:
Heritage Funeral Home
1591 S. 48th Street, Springdale, AR
Phone: 479-751-2444
http://www.heritageofnwa.com