Mary Leckie Larson
Williamsburg, VA, 1926 - 2022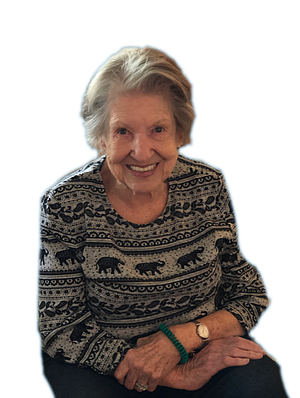 Mary Leckie Larson passed away on July 16, 2022, in Williamsburg, Va., at the age of 96. She was a wonderful wife, mother, sister, aunt, and friend.
Mary was born in Harrison, Ark., on February 10, 1926, to Leslie and Leckie Jackson. She always considered Arkansas her home, although she lived many other places: New Mexico (where she met and married her husband), upstate New York (on a small farm), Hawaii (she said it was like a five-year vacation!), Las Vegas (so much fun!) and Virginia (a quiet country life). She and her husband returned to live in Arkansas in the 1990s, settling in Little Rock.
She is preceded in death by her husband, Col. Jennings O. Larson (Air Force, retired); her son, David J. Larson; and her sisters Helen Spears and Janet Machen.
Left to cherish her memory are her daughter and son-in-law, Leslie and William Andersen of Williamsburg, Va.; her sister, Judith McAlister of Greensboro, N.C.; and a great number of nieces and nephews, and their children. Her nieces Mary Machen Boyce and Janet Machen of Little Rock, Ark., were especially dear to her.
Arrangements are by Bucktrout of Williamsburg Funeral Home.
Published July 20, 2022