Deborah Lyn Despres
Haltom City, TX, 1962 - 2022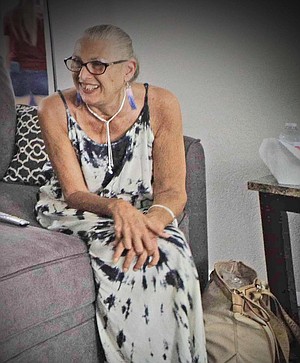 Deborah Lyn Despres, of Haltom City, Texas, went home to be with our Lord, on July 17, 2022, ending her courageous and hard fought battle with colorectal cancer.
Deborah known to numerous friends and family as Debbie or Lyn, was born on June 20th, 1962, in North Little Rock, Ark., to parents Danny Sherrill and Jeri Richardson.
Eventually, Texas would become Debbie's new home, and would see her grow through her teenage years into adulthood. The family would soon grow further as well as Debbie would go on to marry her lifelong friend and companion, Richard A. Despres Jr, on November 20, 1982. The family would be blessed even further through the years by the arrival of their two children, Richard A. Despres III and Daniel B. Despres.
Debbie's professional life would be spent helping people in the world of customer service and support, most notably for AT&T during her many years at Hawk Electronics/PCI, and then finally supporting Wells Fargo customers across the country via their call center in Northlake, Texas.
Debbie's life was filled with her unyielding love and spirit for God, family and friends. She also took joy in great conversation, great laughs, and the great outdoors. She treasured time spent watching a nice sunset and past visits to the Catskills and Green Mountain ranges during various adventures.
While unable to do all she was used to during her final six-year battle with cancer, Debbie enjoyed all the time she spent with her family, especially any time she could visit with her grandson, James.
She is survived by her husband, Richard A Despres Jr.; her two sons, Richard A Despres III, Daniel B Despres; her grandson, James B Despres; her father, Danny Sherrill of North Little Rock, Ark.; ger mother, Jeri Richardson of Hot Springs, Ark.; her stepmom, Narcie Mansfield of Ark.; her brother, William Brewster of North Richland Hills, Texas; as well as a host of aunts, uncles, cousins, and nieces and nephews.
Debbie was preceded in death by her younger sister, Tracy Garretson,, who also was taken by cancer. Also her stepdad, Glen Brewster of Centerville, Texas.
Services yet to be determined, but expected to be held in Hot Springs, Ark., within the upcoming weeks.
Published July 23, 2022
OBITUARY SUBMITTED BY:
Memoriams.com
391 Inverness Parkway, Suite 300-B, Englewood, CO
E-mail: helpdesk@memoriams.com
Phone: 877-705-4995