Mosco Cash
Harrison, AR, 1923 - 2022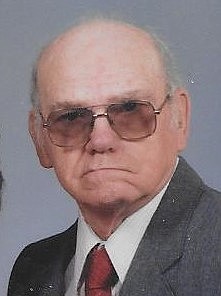 Mosco Cash, 98, a community and business legend, passed away on Wednesday, July 20, 2022, in Harrison. His contributions to Harrison and Boone County are a legacy that will be long remembered. He was born December 25, 1923, at Woolum to Mosco Franklin and Nobel Pearl Kimes Cash. Mosco built his first commercial building at age 16, digging the foundation and laying the bricks by hand. His building never stopped. Despite contracting polio at age three, he was able to attend OSU on a football scholarship. After one year, he preferred to start his business career. He joined his father and together they built a 7up, Nehi, and Dr. Pepper bottling company. They later added an ice company making deliveries from Northwest Arkansas to Southern Missouri. Mosco built and grew many businesses including Ozark Advertising, numerous commercial properties, a candy business, cattle operation, loan business, shopping center developer, and co-owner, with his father, of the Empire Bank in Springfield, Missouri.
Mosco was a lifelong member and deacon of the Baptist Church, member of the Harrison Kiwanis Club for many years and a founding member of the Old Time Goblins. It was said that Mosco and Josephine could stretch a dollar enough to make George Washington smile. However, they had an open heart and checkbook when it came to charitable causes. The building of Cash Hall at Williams Baptist College, Josephine T. Cash Track, and the Mosco Cash Sports Center at Harrison High School are just a few. The Cash Family Scholarship Fund gave over 100 scholarships to ten area schools in 2021, for students to attend North Arkansas College (NAC). This scholarship fund is ongoing and will be a permanent legacy to benefit the young people in the Harrison area. Mosco married the love of his life, Josephine Terry. They married on a Sunday, and she was keeping books on Monday. They worked side by side for 74 years and continued to work until their mid 90's. Mosco is survived by his three children, Dr. Jerry Cash and his wife, Shara, of Springfield, Missouri, Connie Cash Gray and her husband, Phil, of Harrison, and Nancy Cash Theis and her husband, David, of Orlando, Florida; four grandchildren, Shay Cash JD, Dr. Tara Cash, Jordan Cash Theis, and Martin Aaron Gray; and eight great-grandchildren, Graham, Lena Grace, and Clara Satterwhite, Hendrix Cash Theis, Nate Cash Lask, Ellie Cash, and Isla and Jasmine Josephine Gray.
The funeral will be held at 10 a.m., on Monday, July 25, 2022, at First Baptist Church of Harrison with the Rev. Rob Davis and Kim Rosson officiating. Burial will be in Maplewood Cemetery under the direction of Holt Memorial Chapel. Pallbearers will be Martin Aaron Gray, Curtis Kimes, Paul Satterwhite, Jim Kimes, Randy Kimes, and Scott Lair.
Visitation will be from 2 to 4 p.m., on Sunday, at First Baptist Church of Harrison. In lieu of flowers, please send donations to the Mosco Cash Scholarship Fund at North Arkansas College, c/o NorthArk Foundation, 1515 Pioneer Drive, Harrison, Arkansas, 72601. The online obituary and guestbook are available at: www.HoltChapel.com.
Published July 23, 2022
OBITUARY SUBMITTED BY:
Holt Memorial Chapel
1904 Capps Road, Harrison, AR
Phone: 870-741-3481