Bettye Wallace
Arkadelphia, AR, 1929 - 2022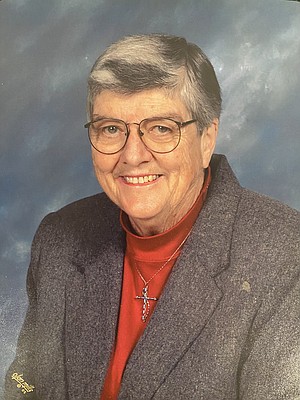 On Tuesday, July 26, 2022, Bettye Wallace, a trailblazer for women's athletics at Henderson State University, died at the age of 92 in Creede, Colo. Bettye was born on Oct. 22, 1929 in Malvern, Ark., to the late David and Jannie Wallace. Bettye is preceded in death by her sister, Vivian Allene Wallace; and niece, Susan Bailey Edison.
She is survived by a very special friend, Sue Ehrgood of Arkadelphia, Ark. Bettye is also survived by numerous cousins and a special group of former players and students, who proudly call themselves Bettye's Reddies.
After receiving her undergraduate and graduate degrees, Bettye returned to Henderson State University as a member of the faculty in 1963, where she taught in the Physical Education Department, coached volleyball and tennis, and later was named women's athletic director (the first in the state). She was instrumental in the development of the Arkansas Women's Intercollegiate Sports Association, which began organized athletics for women in Arkansas. Her legacy has been felt by thousands of women because of the early groundwork she and several others laid in establishing these opportunities. Generations to come will forever be reaping the benefits of her early leadership. Her vision and expertise were sought after by boards and committees at the local, state, regional and national levels. Bettye had a successful volleyball and tennis coaching career (1963-1988), where her teams won many championships. Bettye demonstrated great humility, always emphasizing the "team" and never herself. Two honors of great significance were the induction to the 1997 Reddie Hall of Honor (inaugural class) and the 2018 induction into the Arkansas Sports Hall of Fame.
An avid walker/hiker, Bettye logged enough miles to have walked the circumference of the earth. Her other love was attending HSU athletic events. She could regularly be seen in the bleachers or stands cheering on her beloved HSU Reddies.
Memorial service will be 2 p.m. Saturday, July 30, at First United Methodist Church, with Rev. Rob Walker and Rev. Zeke Allen officiating. Visitation will be 12 noon until service at the church. Bettye will lie in state at Ruggles-Wilcox Funeral Home on Tuesday, August 2. There will be a graveside service at 10 a.m. Wednesday, August 3, at Oakridge Cemetery in Malvern.
Pallbearers: Glenn Good, Hank Armstrong, Pat Dillard, Jay Wallace, Rick Medlock, and Larry Pennington. Honorary Pallbearers: Ronnie Wallace, Scott Wallace, Don Sears, and Bettye's Reddies.
In lieu of, or in addition to flowers, memorials can be made to the Wallace Family Scholarship or the Holt, Wallace, White, Sevier Scholarship at the Henderson State Foundation, 1100 Henderson Street, HSU Box 7550, Arkadelphia, Ark., 71999, or The First United Methodist Church
107 N. 9th, Arkadelphia, Ark., 71923.
The family asks that masks be worn.
Published July 31, 2022
OBITUARY SUBMITTED BY:
Ruggles-Wilcox Funeral Home
517 Clay St., Arkadelphia, AR
Phone: 870-246-4551
http://www.ruggleswilcox.com