Leona Jean Townsend
of Little Rock, AR, 1936 - 2022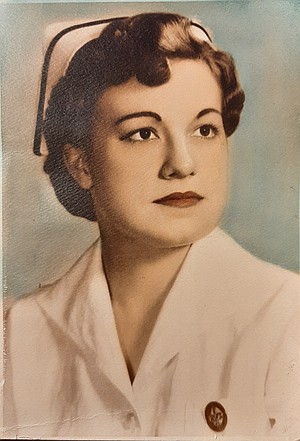 LEONA (JEAN) TOWNSEND, devoted wife, mother and grandmother, was welcomed into the loving arms of her Savior Jesus Christ On Thursday, July 28, 2022. Jean was born in Gibson County Indiana February 17, 1936 to Lester and Francis York. While a student nurse, she met her future husband, James (Jim) Townsend on a blind double date. It was "love at first sight" for her and she told the other girl "I am going to marry that man". She did, and they were married for 53 years until Jim's untimely passing in 2011.
Jean is survived by her son, Eric; and her beloved granddaughter, Cleo Townsend.
Jean was born into poverty, but experienced her big break when a nurse recruiter came to her high school and offered a loan from a physician's family to attend nursing school. Jean grabbed this opportunity and upon graduating nursing school, married Jim. They lived in the states of Iowa, Indiana, Kansas, and eventually Arkansas, during which time Jean excelled as a wife, mother, and in her profession, being a Director of Nursing and Nursing School Instructor.
Jean and Jim had their membership in Immanuel Baptist Church of Little Rock from 1976 until their passing. During the 1980's, both Jim and Jean were very active with the Youth Mission Projects at Immanuel and would travel with the youth, Jim being the logistical planner and overall kind fatherly figure, and Jean being the nurse and care provider for the kids.
Starting in 1987, Jean's life was marked, but not defined by, a series of serious illnesses and physical challenges that would have defeated most people. The same spirit and resiliency with which Jean had overcome so many obstacles previously in life, in combination with the indefatigable love and sacrificial care of Jim, allowed Jean to continue. She had a love for God, with whom she now resides, and combined it with a tremendous inner strength to defy all odds and so many obstacles. We now rejoice knowing that Jean is free of all physical encumbrances, pain, embarrassing inconveniences, and strain of life on Earth. She has nonetheless left her example as legacy, one of caring perseverance, love for others, compassion for the suffering, and steadfast resilience for whatever life may bring.
In lieu of flowers, Jean would prefer contributions be made to Immanuel Baptist Church.
Visitation will be held at 10 a.m. Wednesday, August 3, 2022 at Immanuel Baptist Church. The service will follow at 11 a.m. Burial will follow later in Evansville, Ind.
Published July 31, 2022
OBITUARY SUBMITTED BY:
Griffin Leggett Forest Hills
1200 Highway 5 North, Alexander, AR
Phone: 501-455-1067
http://www.griffinleggettforesthills.com