Margaret Tyler Villee Compton
El Dorado, AR, 1929 - 2022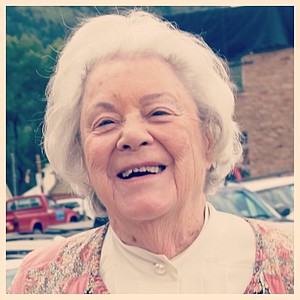 Margaret Tyler Villee Compton died on July 29, 2022. Margaret was born on August 1, 1929 in Memphis, Tenn. Reared in Columbus, Miss., and Camden, Ark., Margaret attended the University of Arkansas, where she graduated with a degree in Business in 1948.
She was born to Margaret Tyler Villee and Horace Villee. Dr. Villee served as the preacher at First Presbyterian Church in Camden and at First Presbyterian Church in Columbus, Miss., where Mrs. Villee ("Nonnie") played the organ and the piano. Margaret was steeped in the Presbyterian tradition. Her late husband, Robert C. ("Bob") Compton said of his wife, "Margaret loves the Presbyterian Church and a proper party – not necessarily in that order."
It was in Fayetteville that Margaret met Bob. Here was the sheltered daughter of a Presbyterian preacher and his music-loving wife, falling in love with the boisterous and driven law student. They married on April 7, 1951. After a stint in the FBI in Washington, D.C. and Pittsburgh, Penn., Bob was transferred to Newark, N.J. Margaret put her foot down then, and they moved to El Dorado and raised their family. Margaret was a long-time member of the Union County Quorum Court, was active in First Presbyterian Church, where she served as an elder. She served as President of the El Dorado Service League and the Presbyterian Women. Margaret loved and regularly attended the performances of the South Arkansas Symphony and was a strong supporter of the South Arkansas Arts Center. A vociferous reader, she helped scores of people learn to read during her time as a volunteer with the Literacy Council. She was a great travel companion and always kept a bag packed and ready to go; she saw much of the world. Margaret was a proud wife, mother, grandmother, great-grandmother, and friend. She loved deeply and was loved by many.
Preceded in death by her parents, her husband, her sister, Grace Villee Long; and her niece, Kathryn Breitbarth; Margaret is survived by her children, Robert C. Compton, Jr., of El Dorado, Cathleen Compton and her husband, Billy Roy Wilson, of Little Rock, Walter Compton and his wife, Beth Hudson Compton, of Austin, Texas; five grandchildren: Maggie H. Benson and her husband, Matthew, of Fayetteville, Whitley Hobbs and her partner, Sean Estes, of Little Rock, Jackson Compton of El Dorado, Tyler Compton and her fiancé, Taylor McKinney, of Little Rock, and Jade Hack of Austin, Texas. She has three great-grandchildren: Liv Compton and Ziggy Compton of El Dorado, and Mary Helen Benson of Fayetteville.
The family would like to give special thanks to Patrice Andrews, the Ward sisters (Lois Gulley, Carolyn Norman, and Ola Barnes), Clevette Reed, Angela Smith, Myesha Brown, LaQuita Moore, Joe Hickey, Regina Lambert, Marica Ford, Vernita Ellison, the staff at Lifetouch Hospice, and the late Clevester Williams for their loving help and care over the years.
Funeral will be held at the First Presbyterian Church, 300 E. Main in El Dorado at 11 a.m. on Tuesday, August 2, preceded by a private graveside service.
Memorials may be made to First Presbyterian Church of El Dorado, Habitat for Humanity, Barton Library, Lifetouch Hospice of El Dorado, the Literacy Council of Union County or Hope Landing.
Fond memories and expressions of sympathy may be shared at www.youngsfuneralhome.com for the Compton family.
Published July 31, 2022
OBITUARY SUBMITTED BY:
Young's Funeral Directors
508 Champagnolle Road, El Dorado, AR
Phone: 870-863-7121
http://www.youngsfuneralhome.com