Teola Madden Pulley-Ivory
of Sweet Home, AR, 1924 - 2022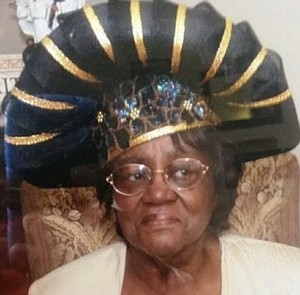 MOTHER TEOLA MADDEN PULLEY-IVORY, of Sweet Home, Ark., was born May 8, 1924, in Palestine, Ark. She was the youngest of 12 children born to Henry M. (Brooks) and Vada (Groce) Madden.
She was preceded in death by her parents; husband, Tommy Lee Ivory; three sons: Theodis Pulley, Jr., Samuel Pulley, and Dexter Pulley; one daughter: Regina Pulley; two grandsons: Harold Hamilton and Michael Drone; two sons-in-law: Henry Taylor and Herman Hamilton, Jr.; one great granddaughter: Ja'Kya Mitchell; nine sisters: Ellen Moore, Rosie Trice, Minnie Gauss, Ella Madden, Idella Holland, Lelah Madden, Marzie Madden, Johnnie Mae Sprallings, and Ivory Whitby; two brothers: Henry Mack Madden, Jr. and Joseph Madden, Sr.
She leaves to cherish her memory four daughters: Patricia (Lugene) Drone, Teola Favors, Catherine Taylor, and Helen Humphrey; four sons: Haston (Barbara) Pulley, Alfred (Linda) Pulley, Jerry (Gracie Ann) Pulley, Hubert (Debra) Pulley, & Dwight Pulley; 36 grandchildren; approximately 79 great-grandchildren; approximately 48 great-great-grandchildren, and a host of nieces, nephews, cousins and friends.
Family hour will be Friday, August 5, from 6-7 p.m. Service will be Saturday, August 6, at 11 a.m., with a visitation from 10-10:45 a.m. All events will be at Greater Christ Temple Pentecostal Church, 1200 Bishop Warren Dr., Little Rock, Ark., 72204. D.L. Boyd Funeral Home, 10600 Trainstation Dr., Mabelvale, Ark., 72103. 501-246-5913. www.dlboydfuneralhome.com.
Published July 31, 2022
OBITUARY SUBMITTED BY:
D.L.Boyd Funeral Home, LLC
PO Box 190712, Little Rock, AR
E-mail: DLBOYDFUNERALHOME@GMAIL.COM
Phone: 501-246-5913
http://www.dlboydfuneralhome.com/