Paul Edwin Roth
Fayetteville, AR, 1961 - 2022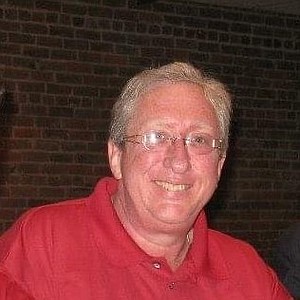 Paul Edwin Roth went to his eternal home in heaven on July 8, 2022, one day after his 61st birthday. He died at Washington Regional Hospital in Fayetteville, Ark.,, surrounded by friends and family who loved him dearly. Paul was preceded in death by his parents, (Henry) Lee and Hildegard Roth; and the love of his life and his wife of 20 years, Sherry Charlene Cook Ponder. Paul was born on July 7, 1961, in Florissant, Mo. He was an only child and was loved dearly by his parents. Paul lived in Florissant and was a very active member of the First Baptist Church of Ferguson, Missouri, where he developed many lifelong friendships. Paul was a talented singer back in the day and enjoyed singing in the choir at McCluer High School and church. He lived in Florissant until leaving for the University of Arkansas in the summer of 1979.
Fayetteville "got into Paul's blood" and became his beloved home. After graduating from the U of A, Paul never left Fayetteville. In 1993, a mutual friend introduced Paul to Sherry Ponder. After a brief courtship, they were married in the same year. Paul and Sherry had many fabulous adventures together over the years and traveled the world.
In the 2000s, he moved his aging parents to town and took over as his father's devoted caregiver after his mother's death. Paul also provided care for Sherry in her last days in their home on Mount Sequoyah – a home that they both loved.
Paul had several professional pursuits, but it was his ownership of Global Beans Coffee Company that he identified with the most, and for which he was most well-known. Paul traveled to Bolivia, South America, in the 90s to visit a good friend who was living there, and became fascinated with the coffee business. He researched extensively the process of roasting coffee beans and found who he considered the best in the state to roast his coffee beans. After that, he started providing his own roasted coffee beans to all local grocery stores and coffee shops under his own brand, Global Beans.
Some of Paul's happiest years were spent playing rugby in Fayetteville in the late 1980s and early 1990s, an activity that netted Paul a core group of lifelong and devoted friends. Even after his retirement from playing the game, Paul stayed involved in the local rugby scene over the years, always attending the current teams' home matches, both the University and the older non-collegiate club side. One could always hear him loudly cheering on the sideline of the local home rugby matches. U of A Rugby Alumni reunions were happily anticipated events to Paul, and he served on the planning committee for several of these alumni weekends over the years. In this way, Paul became acquainted with a whole other generation of young University of Arkansas Razorback Rugby players. Several of the past men and women players were with Paul through the end, and many more streamed through the hospital room or called from literally all over the world to speak into Paul's ear in his final days. Paul could hear his mates calling out, "With you!" (a common rugby phrase used on the field signifying support and trust) until the very end.
Paul's friends knew him to be approachable by all, and he was friends with a wonderfully diverse group of great folks – from service workers to executives and professionals. He was a conversationalist who enjoyed a robust discussion on just about any topic, but he specialized in anything about the Razorbacks and good food.
A combined celebration of life for Paul and Sherry will be on August 14, at 2 p.m. at the Mount Sequoyah Center in the Bailey Room, 150 N. Skyline Drive in Fayetteville, Ark. In lieu of flowers, consider a contribution to the Fayetteville Animal Shelter in Paul and Sherry's name.
Published July 31, 2022