Sara Broaddus Morris
Fayetteville, AR, 1954 - 2022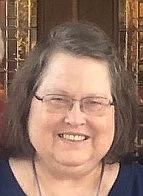 Sara Broaddus Morris passed away peacefully in Fayetteville, Ark., on July 30, 2022. Sara was born on August 21, 1954. She was the daughter of Jerre Jayne Coldren Morris and Gordon Morris, Jr., of Parkin, Ark. She was preceded in death by her parents, her grandparents, Sarah and Jerre Jacob Coldren of Parkin; Beulah and William Gordon Morris, Sr. of Memphis, Tenn.; and her aunt and uncle, Jimmie Coldren Barham and Eugene J. Barham, Jr., of Earle. Sara graduated from Harding Academy in Searcy, Ark., and she attended Freed-Hardeman University in Henderson, Tenn. After college, Sara lived in Little Rock. In 2007, she moved to Fayetteville to be closer to her beloved cousin and primary caregiver, Jimmie Barham Beauchamp ("Jimmie Jr".). Jimmie and Sara got to spend 15 years together in Fayetteville, where they had many fun adventures shopping, laughing, and always looking for the best chicken Caesar salad in town! Sara was always happy and in a great mood, she never complained, and she had a smile and laugh that would light up any room. Sara had a very strong Christian faith; she loved her Lord and she spoke for many years about her excitement to one day see the "pearly gates and streets of gold in heaven". Sara was loved by so many people, including all of her caregivers in the past 15 years while living in Fayetteville, and she never met a stranger. She is survived by her cousins, Jimmie Barham Beauchamp (David) of Fayetteville, Eugene Barham III (Greg Packer), of Dallas, Johanna Quinn of Jonesboro, Marilyn Kay Peterson (Don) of Fayetteville, and their extended families.
The family would like to extend a special thanks to all of the staff at Brookstone Assisted Living in Fayetteville, where Sara lived for 13 years, the staff at North Hills Life Care & Rehab in Fayetteville, and the caring staff at Washington Regional Hospice.
Graveside services will be held on Tuesday, August 2, at 3 p.m. at Cogbill Cemetery in Wynne, Ark., where Rev. Tony Wells will officiate.
In lieu of flowers, the family requests that you send a memorial to the charity of your choice.
Kernodle Funeral Home of Wynne is in charge of arrangements. You may sign an online guestbook at: www.kernodlefh.com.
Published July 31, 2022