Betty Lou Gray
Westville, OK, 1942 - 2022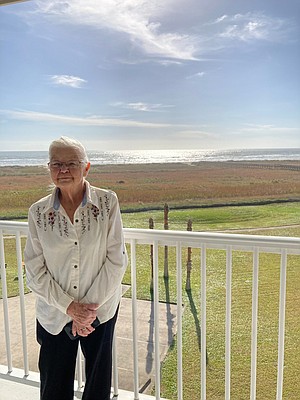 Betty Lou Gray, the daughter of Earnest and Clara (Noack) Leubner, was born November 1, 1942, in Del Rio, Texas, and departed this life on April 25, 2022, in Westville, Okla., at the age of 79 years, 5 months, and 24 days.
Betty enjoyed life; she loved being outdoors, whether she was working in the garden or just watching the hummingbirds fly around her flowers. She had a green thumb and could grow anything. She was a diligent worker and was proud to be a Master Locksmith. She served as Treasurer, Vice President, and President of Locksmith Association. She worked at R-Keys in Siloam Springs, Ark., for over 30 years. She was a strong Christian who loved the Lord and was the eldest daughter of four children. She graduated from Reagan High School. Betty touched many lives over the years and will be dearly missed by all who knew her.
She was preceded in death by her parents; her husband, Edward Patrick Gray; her brother, Gerald Leubner; granddaughter, Victoria Kleinsteuber; and her nephew, Jason Ridings.
She is survived by a loving family, which includes her daughters Virginia Gray and partner, Shawn Searcy, of Houston, Texas, and Renate Kleinsteuber and husband, Mark, of Hobbs, N.M.; her brother, Earnest Leubner and wife, Michelle, of Springfield, Mo.; sister, Shirley Ridings and husband, John, of Bremond, Texas; sister-in-law, Cathy Leubner of Deland, Fla.; grandchildren, Ryan Gray and wife, Lydia, and Vivian Spinks; great-grandchildren, Hunter, Patrick, and Easton James; nephews, Joe Gray and wife, Kathy, Christopher Ridings and wife, Julie, of Richmond, Texas, and Andrew Leubner and wife, Linh, of Seattle, Wash.; nieces, Dana Gray and wife, Lauren, Leah Higdon, and husband, Michael, of Warrenton, Mo., and Kate Ridings of Houston, Texas; great-nieces, Gabrielle Ridings and Lily Leubner; and great-nephew, Jakob Ridings. Several friends, and other relatives also survive her.
In lieu of flowers, donations to assist the family with service costs would be greatly appreciated. To donate, please call Roberts & Hart Funeral Home, Westville, Okla., at 918-723-5438.
Memorial Services were held at 1 p.m. on Friday, April 29, 2022, at Roberts & Hart Chapel, Westville, Okla.
Published May 1, 2022