Kelly Lynn Scott
Tontitiown, AR, 1957 - 2022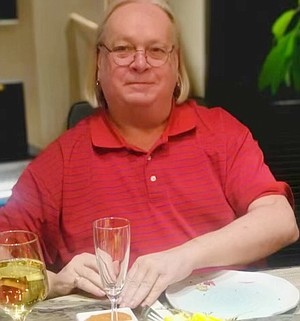 Kelly Lynn Scott, 64, of Tontitown, Ark., passed in peace and surrounded by his family on Wednesday, April 27, 2022 in Springdale, Ark. Born September 23, 1957 in Springdale, he was the youngest child born to Glen and Dolly Cross Scott.
Kelly grew up wild and free, running the hills of Elm Springs with his huge extended family. He was the baby of the family, and took advantage of all the benefits that entitled, often bringing his nieces and nephews along for the ride. As he grew up, he developed an infectious charm, incredible wit, and perfect comedic timing, along with his signature look: piercing icy blue eyes, soft luxurious long hair, and a personality that would charm everyone he met. Kelly loved music, movies, sports, technology, fast cars, good food, and most of all, his family and friends all over the world.
Kelly married the original love of his life, Debra Kerns, in 1979, and they welcomed a daughter, Mallory in 1986. Through that marriage, Kelly inherited four new sisters, a brother, a multitude of extended family and friends, and the everlasting love of the extended Kerns family. Although Kelly and Debra divorced, they remained friends and shared a deep love and mutual respect that will continue far beyond Kelly's death.
Kelly was incredibly proud of his daughter, Mallory, and bragged about his granddaughter, Lennon, to everyone he met. His granddaughter inherited his icy blue eyes and wild spirit, something that Kelly absolutely delighted in. Although his work and travels took him away from them, his love was, and will continue to be felt daily.
Kelly was a sincerely one-of-a-kind person; he was absolutely hilarious, he could play any song by ear on his guitars, he could make a song out of any thought at any instant, he was a natural innovator and truly brilliant, he learned multiple varieties of Chinese by ear, and his generosity knew no bounds. Kelly was a dedicated Razorback fan and a very loyal Arkansan. No matter how far he traveled, he remembered his roots and his loved ones back home with pride. He was incredibly proud Scott boy. Kelly was a true globe-traveler: living and working in China, visiting countless countries around the world, and making friends at every stop. His Chinese friends meant the world to Kelly, and they were his family away from home.
Kelly was preceded in death by his parents; sister, Coelene; best friend and brother, Monte; and his wife, Linda; brothers, Doug, Scotty, and Dwain; nephew, Shannon; and other beloved members of his family.
Kelly is survived by his daughter, Mallory, and husband, Derek, and granddaughter, Lennon of Kansas City; brother, Dugan and wife, Evelyn, of Elm Springs; brother, Gene and wife, Sherry, of Siloam Springs; sister-in-law, Joyce of Elm Springs, countless nephews, nieces, and cousins; and immeasurable family and friends from all over the globe.
A public graveside service will be at Elm Springs Cemetery on May 28, 2022 at 10 a.m. Arrangements were entrusted to Memorial Funeral Home in Springdale, Ark. Online condolences may be sent to the family: www.memorialfhspringdale.com.
Published May 1, 2022
OBITUARY SUBMITTED BY:
Springdale Memorial Funeral Home
3926 Willowood Ave., Springdale, AR
E-mail: benhen@cox.net
Phone: 479-756-8341
http://memfuneral.com/