Nancy Lucas Owens
Fayetteville, AR, 1938 - 2022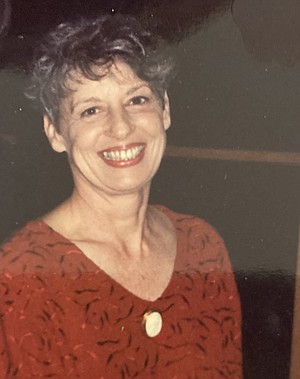 Nancy Owens died on April 23, 2022, at age 83, after a brief illness.
Nancy Jane Lucas was born to Helen Jane (Osborn) and Paul Lucas on December 25, 1938 in Jonesboro, Ark.
She is survived by her husband of 30 years, Dr. Holmes Chappell, Fayetteville; her son, Paul Owens (Amy) of Little Rock; grandson, Paul Owens, Jr., of Little Rock; her sister, Paula Lucas Montgomery (Robert) of Sun City Center, Fla.; nieces, Sarah Montgomery, Singapore, Kate Lilly, Austin, Texas; nephew, Robert Montgomery, Jr. of Atlanta, Ga.; brother-in-law, Ellis Chappell of New Orleans, La.
Nancy graduated from Stuttgart High School in 1957. She was an Honor student, a delegate to Girls' State, and a finalist for the National Merit Scholarship. She was involved in many school organizations, and served as art editor of the school yearbook.
She attended the University of Arkansas, earning degrees in Literature, Education, and an MFA in art.
She married her high school sweetheart, Don Owens, and they had a son, Paul. She became a single mom, and taught elementary school, and at times, high school Art and English. She taught in Colorado, and for many years, in the Springdale school system.
Nancy's artistic talent was recognized early on, as a toddler in Jonesboro. She won her first art competition while she was in elementary school.
Her artistic skills were in design, drawing, watercolor, collage, and everything she touched. She designed several of her homes over the years, including two homes in Fayetteville.
She was a beautiful human being inside and out, with a special smile. She was featured as a Razorback Beauty in the 1959 Razorback Yearbook.
Nancy was a sensitive and compassionate friend to her large group of long-time friends. Her lunch and travel groups will miss her dearly. Many will remember hikes in the woods, laps in the pool, adventures in the wilds of the Ozarks, and annual trips to the American west. When they reflect on their memories of magnificent nature and landscape, they will see Nancy there in the beauty that surrounded them.
A Celebration of Life ceremony is planned for June 19, 4 p.m., at George Dombek Studio and Gallery, 844 Blue Springs Rd., Fayetteville. No flowers requested.
Published May 1, 2022