George Lowrance Hodge
Dallas, TX, 1934 - 2022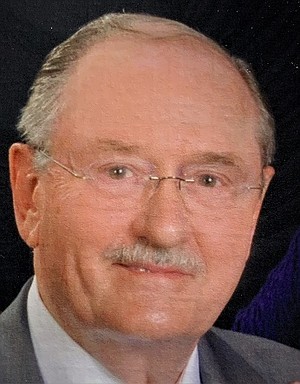 George Lowrance Hodge, November 11, 1934 – March 12, 2022. Born in Waldo, Ark., the only child of George L. and Mary Armour Hodge. Preceded in death by both of his parents; and one grandson, Anthony David Abrahamson. Married to the former Marilyn Julia Aylor of Livingston, Texas. for 65 years. Resident of Dallas for 50 years.
Lowrance earned a bachelor's degree in Industrial Engineering from the University of Arkansas and a master's degree in Industrial Engineering and Management from Oklahoma State University and was a Registered Engineer in Texas, Louisiana, and Oklahoma. He was a Distinguished Alumni of the College of Engineering at the University of Arkansas. He served on advisory boards to Engineering Colleges at the U of A, OSU, and Texas Tech.
Lowrance retired from the U.S. Naval Reserve in 1987 with the rank of Captain after four years active duty, and 28 years as a "Weekend Warrior". His civilian career included the Ethyl Corporation, Dow Chemical, and several years as a Director in Management Services for the accounting firm of Arthur Young and Company. Later, he was the Senior Vice President of Manufacturing Operations and Engineering for Mary Kay Inc. until his retirement in 1997.
After retirement, Lowrance was affiliated with Universal Display and Fixtures in Lewisville, Texas, as a Vice President. He participated in several volunteer activities including teaching a Talented and Gifted class at Burnett Elementary School, and was an Adjunct Professor to the College of Engineering at SMU. Additionally, Lowrance volunteered for the Service Corp Of Retired Executives (SCORE), Meals on Wheels, and Citizen's Development Center.
Lowrance enjoyed having numerous friends from the several areas of his involvement including Naval Aviation, University of Ark. Alumni, Institute of Industrial Engineers, The Conference Board, Sertoma, SCORE, Citizens Development Center, Schreiber Memorial UMC, and University Park UMC.
He considered his family and church to be the most important parts of his life and over the years was actively involved with his church as a teacher and served on numerous committees.
Survivors include his wife, Marilyn; daughters, Mrs. Kathy Abrahamson and husband, Bill, of Arlington, Texas; Dr. Julie Hodge and husband, Scott Macduff, of Dallas, Texas; and Mrs. Rosemary Wakely and husband, Adam, of Princeton, Texas. He leaves one son, Jerry Hodge, and his wife, Christy, of Omaha, Neb.; nine grandchildren; one great-grandson; and one great-granddaughter.
Lowrance's body has been willed to UT Southwestern Medical School.
A memorial service will be scheduled at a future date. In lieu of flowers, please make a donation to a Christian charity of your choice.
Published May 5, 2022