Cleo Benton Liles
Fayetteville, AR, 1921 - 2022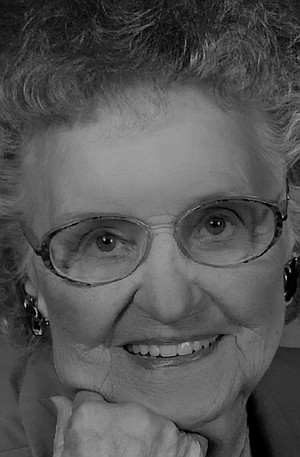 Cleo Benton Liles, age 101, passed away at Washington Regional Hospital on Wednesday, May 4, 2022. She was born February 7, 1921, in White County, Arkansas, to Andrew Sidney and Emma Jane Boyd Benton. She was the firstborn and only daughter for Sid and Emma. Her three brothers, Ellis, Carthel and Otha followed within the next ten years to complete the family. Cleo graduated high school in Beebe, Arkansas, and went on to college in Beebe. When she finished her degree, she taught in a one room schoolhouse in Redfield, Arkansas, for two years. She married Howard Harlan Liles on December 2, 1939. They lived in Antioch, Ark., and farmed. Life was hard operating a small farm growing cotton and raising animals. They moved from Antioch to Little Rock in order to make more money and a decent living. Howard found a job working in a mattress factory and Cleo became a housewife. They welcomed their only daughter, Marilyn, in 1947. Ten years later, the small family moved to Fayetteville in order for Howard to pursue an opportunity and work with his uncle Hoy Riggins at Fayetteville Milk Company.
Cleo took a job with JCPenney on the downtown square as a sales clerk. She was very successful in the ladies foundation department and had many loyal customers who would only let her help them. She worked at "Penneys" for 13 years, leaving only to help the expanding family business. Howard branched off the business of bottling milk and supervising daily home milk delivery to start his own business, hauling milk in tanker trucks. As many dairy farmers were going from Grade C to Grade A dairies, Howard traveled northwest Arkansas helping them. The resulting business, Howard Liles Inc. was a success. Cleo was right by his side, keeping books. Cleo was a member of Fayetteville's First Baptist Church since 1957, and participated as an active member of the L. O. A. Sunday School class. For decades, the ladies of the class loved coming to her house for monthly class meetings. The February meeting always had the greatest attendance because of the gracious hospitality and great food prepared by Cleo. An avid Razorback fan, Howard and Cleo attended Razorback games for years and recently she kept up with both men's and women's games on television. Basketball was her favorite Hog sport, but she followed them all. For her 100th birthday, she received greetings and birthday wishes from President Biden, President Clinton, Senator John Boozman, and Representative Steve Womack. Fayetteville Mayor Lioneld Jordan declared February 7, 2021, as Cleo Liles Day.
She was preceded in death by her husband, Howard Liles, her parents, and three brothers, Ellis Benton, Carthel Benton, and Otha Benton. Her greatest joy was her family. Her daughter, Marilyn Heifner, son-in-law, Jim, grandchildren, Kate Johnson and John David Johnson, and the best gift of all, great-grandson, Jackson Mettey, lit up her face when they visited or she talked to them on the phone. Her nieces and nephews adored her, and she held them close as the last living member of this family's greatest generation. Each family member usually was called Sugar, Sugardoll, Sugarpie, or some variation. She was blessed with great health and an adoring family, but she was a greater blessing to all those whose lives she touched.
Visitation will be Saturday, from 12-1 p.m., at First Baptist Church, Fayetteville with funeral to follow at 1 p.m. Burial will be a Fairview Memorial Gardens in Fayetteville. Memorial contributions may be made to First Baptist Church, 20 East Dickson, Fayetteville, Ark., 72701. To sign the online guest book please visit: www.bernafuneralhomes.com. Arrangements are under the direction of Moore's Funeral Chapel.
Published May 6, 2022
OBITUARY SUBMITTED BY:
Moore Chapel
206 West Center Street, P.O. Box 1149, Fayetteville, AR
Phone: 479-442-7314