Margaret Purtle Alexander
of Little Rock, AR, 1918 - 2022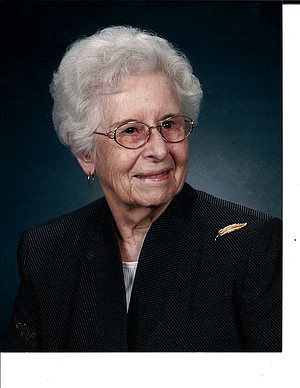 MARGARET PURTLE ALEXANDER, born on December 10, 1918, to parents James Lester and Nancy Hester Gullick Purtle, in Nevada County (Prescott), Ark., the oldest of seven children, died on May 3, 2022 at the age of 103.
She was preceded in death by her parents; her husband, Marvin Marion Alexander; son, Barney Louis Alexander; daughter, Susan Evelyn Alexander Keathley; brothers, Windell and Wallace Purtle; and sisters, Ellen Stewart, Lois Maroon and Mildred Griebel. She is survived by loving daughters, Mary Alice Shipley (Larry) and Lendy Eaton (Ron); son-in-law, Gary Keathley; five grandchildren, Paul Shipley (Joanna), Sarah Shipley (Robert Richle), Sean Keathley (Jamie), Lynn Keathley Staner (Ryan) and Brian Eaton; six great-grandchildren, Kira and Erin Shipley, Pierce and James Keathley, and Cooper and Jackson Staner, sister, Frances Imus and many nieces and nephews.
She graduated from the University of Arkansas with BSHE and MS degrees. She retired from U of A Cooperative Extension Service after having worked as Home Demonstration Agent in Stone, Cleburne, White, and Ashley Counties before moving to the Little Rock State Office as an Extension Specialist, District Program Leader, and retired as the Northwest District Director. While working for U of A. Extension Service, she received a number of awards; awards which she attributed to the cooperation and good work of the staff and cliental with whom she worked. She was honored by being inducted into the Agriculture Hall of Fame in 2011.
After retirement, she and an Extension friend organized an informal travel group of Extension retirees and friends and enjoyed meeting and traveling throughout the United States and several countries outside the U.S. Also, after retirement, she and her husband, Marvin, helped organize the 22nd Bomb Squadron Association, a group of Army Air Force Veterans that Marvin had served with in Burma, China and India during World War II. They continued to meet annually with this group and enjoyed traveling to the various cities throughout the U.S. where the meetings were held until his death in 1992. Margaret continued to stay in touch and meet with the group accompanied by a daughter and/or granddaughter.
She was an active member of the Highland Valley United Methodist Church, the Little Rock Departmental Club and NARFE (National Association of Active and Retired Federal Employees).
Margaret loved to travel, read, cook, knit and visit family and friends. She spent the last years of her life living in Presbyterian Village, making new friends and enjoying the amenities offered in both Independent and Assisted Living, as needed.
A memorial, a celebration of Margaret's life, will be held in the Presbyterian Village Chapel on Wednesday, May 11 at 10:30 a.m. A private burial service will be held at Forest Hills. Arrangements are being handled by Roller-Chenal Funeral Home of Little Rock.
In lieu of flowers, contributions to Highland Valley UMC, Presbyterian Village Foundation or charity of choice will be appreciated by family. Online guestbook: www.rollerfuneralhomes.com/chenal.
Published May 8, 2022
OBITUARY SUBMITTED BY:
Roller-Chenal Funeral Home
13801 Chenal Parkway, Little Rock, AR
Phone: 501-224-8300
http://www.rollerfuneralhomes.com/chenal