Wallace W. Fowler
Jonesboro, AR, 1935 - 2022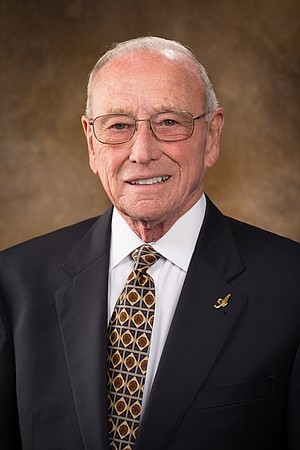 Wallace W. Fowler Sr., 87, of Jonesboro, died Wednesday, May 4, 2022 at NEA Baptist Hospital in Jonesboro.
A native of Manila, he attended schools there and in Oak Grove. In 1954, he attended the University of Arkansas at Fayetteville. While serving with the Army in Fort Chaffee (Ark.), Wallace received a telephone call from his brother, Dr. Jim Fowler of Little Rock, asking him to visit him at his home and help with some yard work. In truth, his brother planned to introduce Wallace to his children's babysitter, a young woman from Amity, Ark., named Jama Sue Massey. Wallace and Jama were married 65 years, before Jama passed away on April 20, 2022.
The Army moved the couple to Germany, where they enjoyed spending weekends traveling throughout Europe. When Wallace left the Army, the Fowlers returned to Little Rock, where he joined Haverty Furniture, and over a 10-year-period, became a sales leader and manager. Additionally, he worked as a buyer for Dillard's, before a career opportunity led him to Jonesboro and the development of Fowler Furniture, with stores in a number of Northeast Arkansas locations.
In 1969, he sold the furniture stores to a Memphis company, in order to pursue the purchase of Kentucky Fried Chicken franchises. Wallace and Jama joined his brother, Dr. Charles Fowler of Little Rock, Forrest City businessman Don Edmondson and Little Rock banker Ed Penick Sr. in an operation which grew to 93 franchises when it was sold in 1985.
When Wallace and Jama's business vision expanded into the banking arena, their banking ownership eventually included interests in Mercantile Bank, North Arkansas Bancshares, First Bank of Arkansas, Southwest Bancshares, Russellville Bancshares, Liberty Bank of Arkansas and Liberty Bancshares.
A 2011 inductee into the Arkansas Business Hall of Fame, Wallace served as a member of the Arkansas Industrial Development Commission, the Arkansas State Police Commission and many national and regional committees for KFC. He received numerous awards for his contributions to his community and the State of Arkansas.
He was preceded in death by his parents, William W. and Julia E. Fowler; three brothers, Dr. Charles Fowler; Dr. Jim Fowler; and Glen Fowler; and a sister, Mrs. Jean Jolliff. He is survived by a brother, Dan Fowler of Nashville, Tenn.; three sons, Wallace (Wally) Fowler Jr. (Chris Cooper) of Heber Springs; Chris Eugene Fowler (Kim) of Key West, Fla.; and Mark Preston Fowler (Lisa) of Paragould; his grandchildren, Crystal Crawford (Matt); Aaron Fowler; Kaleb Hendrix; Megan Roberts (Gabe); and Matthew Fowler, all of Jonesboro; CJ Fowler Jr. of Cambridge, Mass.; Alexandra (Lexi) Rose Fowler of Oklahoma City, Okla.; Kody Whitney (Kelsey) of Paragould; and Tera Helding (Wes) of Lee's Summit, Mo.; and his great-grandchildren, Caroline and Clara Crawford; Fowler, Elsie and Hampton Roberts, all of Jonesboro; Kolt and Kam Whitney of Paragould; and Eleanor and Owen Helding of Lee's Summit, Mo.
Visitation will be from 2-4 p.m., Sunday, May 8, 2022 at Emerson Funeral Home in Jonesboro. A funeral service will be at 10 a.m., Monday, May 9, 2022 at Emerson Funeral Home in Jonesboro with Brother Chris Harrell officiating. Burial will follow at Jonesboro Memorial Park Cemetery.
Grandchildren will serve as pallbearers.
The family requests that lasting memorials be made to: NEA Baptist Foundation; University of Arkansas Razorback Foundation; Arkansas Children's Hospital Foundation.
Online registry: www.emersonfuneralhome.com.
Published May 8, 2022