Kelsey Lawrence Garman
Little Rock, AR, 1934 - 2022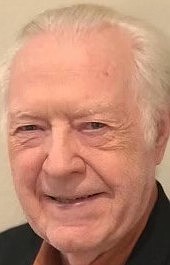 Kelsey Lawrence Garman, 88, of Little Rock, Ark., passed away on Friday, May 6, 2022, in Bastrop, Texas. Mr. Garman was born on April 23, 1934, to Charles Garman and Fern Holland Garman in Mansfield, Arkansas. Kelsey spent his childhood on his family dairy farm and his grandparents farm in the Mansfield area before moving to Fort Smith, Arkansas, where he graduated from Fort Smith High School in 1951. He met his first wife, and the mother of his six children, Joline Stamps, at Forth Smith High School. They were married after graduation, in June of 1951. Kelsey was called into Christian ministry and left his original dream of farming and baseball to attend college at Oklahoma Baptist University (OBU) in Shawnee, Oklahoma. He had three of his six children while still at OBU and preaching at various congregations around Oklahoma. His fourth child was born while he ministered at a church in Council Hill, Oklahoma. He then moved his family to Salinas, California to attend Golden Gate Baptist Seminary in Mill Valley. Two more children were born in Salinas. Those were years of struggle for the young pastor's family, having six children before finishing his schooling, with the youngest born when he was only 27 years old. He moved his family back to Arkansas in 1961 and he continued to pastor or preach in congregations in the Little Rock area including Highway Baptist Church in Jacksonville, Garden Homes Baptist Church, and Natural Steps Baptist Church, among others.
He had a secondary careers as a religious columnist at the Arkansas Democrat and in public relations for the N.W. Ayer & Son Advertising Agency where he worked with the U.S. Army account. He was active in Bible ministries touching the world. He held numerous leadership positions in churches and religious organizations, including the Baptist Foundation.
Kelsey and Joline divorced and Kelsey married Joyce Rutledge Small in 1977. They have been married for 44 years. They traveled together extensively across the United States and Europe. Travel was often tied to his ministry, including delivery of Bibles and money across the borders into Russia. He has faithfully cared for Joyce through years of Alzheimer's disease. She survives him in memory care in Little Rock. He studied finance and investment at the College of Financial Planning at the University of Central Arkansas and was founder of the Fellowship of Christian Investors. He was author of Your Right to Riches, and other financial books and articles, all based on his own Christian principles of stewardship. Mr. Garman will be remembered for his extraordinary Bible scholarship and teaching. He was teaching in his church, Hebron Baptist in Little Rock, and to a loyal group of men (The 12) from his community until last year.
Kelsey Garman is survived by his wife Joyce, and his children, Kaye McDowell (David), Vicky Rudy, Kerry Garman, Valerie Rayburn (Jim), Phoebe Childers (Ted), Celine Garman; and stepsons, Marlowe Small (Alison) and Perry Small (Rhonda). He is survived by 17 grandchildren and step grandchildren Cynthia Corey, Catherine Bynum, Garman Rudy, Lydia Sullivan, Michael Garman, Breanne Garman, Andrea Shaw, Jared Garman, Abraham Rayburn, Luke Rayburn, Amelia Rayburn, Audra Simpson, Teddy Childers, Rachel Small, Patrick Small, Jackie Milby, and Isaac Small, and 29 great-grandchildren. He is preceded in death by grandsons, Christopher McDowell and Dustin Garman. The family would like to acknowledge Marlowe and Alison Small, family friend Debbie Rogers, and "The 12" for their loving care for Kelsey and Joyce during the last several years.
Visitation will be held on Monday, May 16, 2022, at 1 p.m., at Hebron Baptist Church, 18715 Kanis Road, Little Rock, Arkansas, with funeral service to begin at 2 p.m. Burial will follow at Pinecrest Memorial Park, Alexander, Arkansas. Please share your messages of love, comfort and support with Rev. Garman's family at: www.griffinleggetthealeyroth.com.
Published May 11, 2022
OBITUARY SUBMITTED BY:
Griffin Leggett Healey & Roth
5800 West 12th Street, Little Rock, AR
Phone: 501-661-9111