Thomas L Goodgame
Little Rock, AR, 1929 - 2022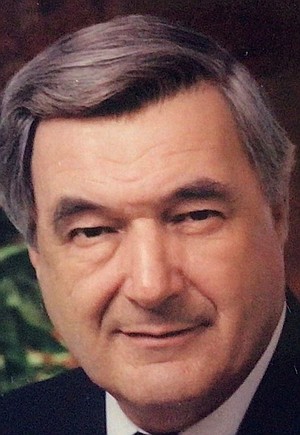 Thomas L. Goodgame, 92, of Little Rock, Ark., died peacefully at home on Tuesday, May 10, 2022. He was born September 24, 1929, in Little Rock, son of Jesse Bee and Sadie Jewel Goodgame. He was one of the first employed in the television industry in Arkansas and managed television stations in Little Rock, Tulsa, Pittsburgh, and Boston. In 1986, Tom transferred to New York City where he was named president of Westinghouse Television Broadcasting, Group W. Before retiring, he assisted in the development of independent broadcasting in the emerging democracies of Eastern Europe. Tom and Rita returned to Little Rock where he served on the UALR Foundation Board and was honored as a Distinguished Alumni. He also served on the LifeQuest Board of Directors. During his life, Tom served with numerous professional and charitable organizations across the country. He was a member of Our Lady of Holy Souls Catholic Church in Little Rock. His family remembers the man who loaded up six kids in the Country Squire station wagon and hauled them across the country for vacations. His sense of adventure took him to many wonderful places, and his quick wit and spontaneous humor were always at hand. He modeled a great work ethic and encouraged his children to think for themselves much to his regret. Although he suffered from wanderlust, he always knew the value of returning home.
He is survived by his wife, Rita (Lynch) Goodgame; five of their six children, Kathleen Taylor (Stewart) of Austin, Texas; Shawn Snow (David) of Little Rock, Carol Dunkel (John) of Huntsville, Alabama; Diane Rice (Tom) of Columbia, Missouri; and John Goodgame (Laura) of Needham, Massachusetts; as well as his daughter-in-law, Susan Clark Goodgame of Bend, Oregon, and his fourteen grandchildren, and thirteen great-grandchildren and one sister, Shirley Rowley of Dallas, Texas. His son, David, preceded him in death. The family would like to express their warm appreciation to the caregivers of Shawnda Washington Elderly Care, as well as, Arkansas Hospice for their kindness and loving care.
Funeral services will be held at 10:30 a.m., Friday, May 13, 2022, at Our Lady of Holy Souls Catholic Church, with Rosary to be said before mass. Burial will be at Calvary Cemetery, under the direction of Griffin Leggett Healey & Roth. Please leave your condolences for Mr. Goodgame's family at: www.griffinleggetthealeyroth.com.
Published May 11, 2022
OBITUARY SUBMITTED BY:
Griffin Leggett Healey & Roth
5800 West 12th Street, Little Rock, AR
Phone: 501-661-9111