Janice Mcdaniel Harris Goodwin
of Little Rock, AR, 1940 - 2022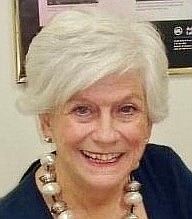 JANICE MCDANIEL HARRIS GOODWIN, 82, left her earthly home on May 11, 2022. She was born February 15, 1940 in Jackson, Miss., and lived around Mississippi during her younger years. She went to Mississippi College in Clinton and then to Springhill College in Mobile, Ala., and graduated with a BSN from Providence Hospital School of Nursing in Mobile. She then went on to Memphis, Tenn., to Baptist Memorial Hospital, where she met the love of her life, Dr. Michael N. Harris. Not long after they married, they moved to North Little Rock, Ark., where they raised their family. While living in North Little Rock, she was active in The Junior League as well as many other philanthropic organizations in her local community and throughout the state of Arkansas. She was most passionate about sharing the love of Jesus with others. Whether serving in the children's or youth ministries at Park Hill Baptist Church or leading multiple Bible studies in her home, she wanted everyone to know about her relationship with her Lord. She also attended the Greek Orthodox Church, where she started the children's Sunday school ministry.
Janice was a business woman as well. She owned a gift store, Les Baskets de Joie, with three of her closest friends. They later owned Crabtree and Evelyn in Park Plaza Mall. After she lost her first husband, she married her best friend, Jim Goodwin. They owned a travel agency together, Goodwin Travel American Express, and they traveled the world with friends and clients. She loved getting to meet new people and she shared her light all over the world. Her joy was evident in all she did.
Even through her disease, she was a joy and gift to others. She was loved by many and will be remembered for her huge smile, contagious laugh, and sweet devotion to her family. She will be missed most by her children, her friends, and to all those who call her Jan Jan.
She is preceded in death by her parents, Lee Summerford and Billie McDaniel; husbands, Mike Harris and Jim Goodwin; grandson, Harris Hulse; and brother, Roger McDaniel. Janice is survived by her children, Mike Harris (Rebecca), Ali Breeding (Blake), Nicole Hulse (Aaron); grandchildren, Michael Harris, Katherine Breeding, Alex Harris, Anna Breeding, Joshua Hulse, Hope Hulse; sister, Gelaine Joachim (Gary); sister-in-law, Diana McDaniel; beloved nieces and nephews, along with a host of loving family and friends.
The family would like to thank all of her doctors and nurses but especially those from Fox Ridge Assisted Living, who loved Janice like family. They filled her last few years on earth with laughter, lots of milkshakes and cookies, and most of all, compassionate care.
Visitation will be held on Tuesday, May 17, at 1 p.m. with the memorial service to follow at 2 p.m. at Park Hill Baptist Church in North Little Rock. In lieu of flowers, the family has asked that memorials be made to The Janice Goodwin Healthcare Education Fund for Fox Ridge Employees. Please mail charitable donations to Goodwin at Simmons, PO Box 55108, Little Rock, Ark., 72205. She loved telling others, "I am an old nurse, ya know!" Her family wants her legacy to live on through blessing those who have been such a blessing to her.
Published May 15, 2022
OBITUARY SUBMITTED BY:
Roller-Chenal Funeral Home
13801 Chenal Parkway, Little Rock, AR
Phone: 501-224-8300
http://www.rollerfuneralhomes.com/chenal