Rita A. Miller
Fayetteville, AR, 1920 - 2022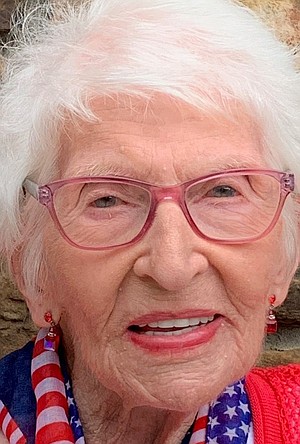 Rita A. Miller, 101, passed away on May 12, 2022, in Fayetteville, Ark., of natural causes. She was preceded in death by her loving parents, Wilhelmina and Joseph Tiefenthaler, and loving siblings, Elizabeth Hickson Shigley, Genevieve Hickson McClintic, Catherine Hickson Murphy, Patrick Hickson, Carl Tiefenthaler, and Carol Tiefenthaler Carraher. Rita's husband, Henry "Hank" Miller, passed in 1982, her stepson, Allan L. Miller in 2019 and her son-in-law, Robert Spoonts in 2021. Rita is survived by daughters, Carolyn Miller (Michael Meek), Marilyn Miller (Patrick Mohn), Debbie Spoonts and daughter-in-law, Betty Miller. She is survived by her Carraher, Dusenberry, Hickson, McClinitc, Murphy, and Shigley family members.
Rita was born in Anaconda, Montana, on June 23, 1920. After graduation from Anaconda High School, she followed her dreams and was able to attend Columbus School of Nursing in Great Falls, Montana, with help and encouragement from her dad, Joseph. She completed nursing training in time to enlist in the Army Nurse Corps in 1943. She served in Modesto, California, and Anchorage before heading North to spend two years in Shemya, Aleutian Islands, caring for the wounded soldiers from the Pacific Theatre battlefields. After WWII she continued her service in the Occupation Forces in Germany and Japan, before ending her military career at Ft. Hood, Texas, after marrying her husband, Henry "Hank" Miller.
Rita and Hank raised three daughters, who were the most important part of her life. She loved them all in their own special way and taught them to be brave, independent women. Hearing the call to service she completed 14 years at the VA Hospital in Fayetteville, Ark., before retiring. Upon retiring she spent a month a year in Montana at her sister's ranch near Sula, Montana, enjoying the nearby hot springs and visits with her family.
Rita loved to sing. She was a member of various church choirs during her military service, and after she left the service. She especially loved singing to her children when they were young, and to her patients. She learned to play the dulcimer and was a member of the Ozark Dulcimer Society for 20 years, performing with the group at schools, care homes, and social events. She enjoyed water aerobics and playing Canasta with her friends. In her later years, Birthday Bingo luncheons were one of her favorite ways to celebrate. Rita attended the dedication of the Military Women's Memorial in October 1997 along with women veterans from across the county. Her service story resides in the archives of the Memorial along with her fellow service women from all conflicts from the Civil War to the present. She continued her service to the women's vets cause by joining the Northwest Arkansas Women's Veterans group, which was founded in 1997. She participated in Veteran's Day parades, fundraisers, and a trip to Little Rock in 2019 where Governor Asa Hutchinson thanked the women for their service. The City of Fayetteville honored Rita by declaring June 23, 2020, to be "Rita A. Miller Day" in recognition of her service and her 100th birthday. Police, fire, Lewis Automotive and family and friends celebrated with a drive-by parade. A life-long Catholic, she let her faith guide her through life knowing it was God's plan.
A rosary and visitation will be held at Moore's Funeral Home, 206 W. Center St. in Fayetteville, Ark., from 5 to 7 p.m., on Wednesday, May 18. A funeral mass will be held at 11 a.m., on Thursday, May 19, at St. Joseph's Catholic Church, 1722 N. Starr Dr., in Fayetteville, Arkansas. The family extends its heartfelt thanks to the nurses and staff of Washington Regional Medical Center, Floor 4200, North Hills Life Care and Rehabilitation and the Willard Walker Hospice Home for the care they extended to Mom and the support they provided the family members.
In lieu of flowers, the family requests a donation to St. Joseph's Catholic School or the Fayetteville Animal Shelter.
Published May 17, 2022
OBITUARY SUBMITTED BY:
Moore Chapel
206 West Center Street, P.O. Box 1149, Fayetteville, AR
Phone: 479-442-7314