Ruby Robertson Miller
Melbourne, AR, 1932 - 2022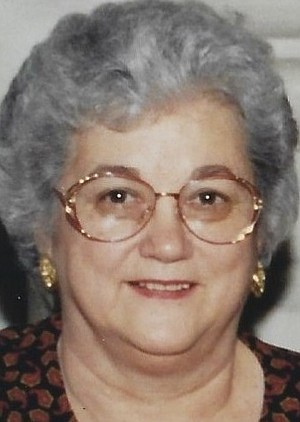 Ruby Lenora Robertson Miller, age 89, died May 17, 2022, at home in Melbourne in the presence of loved ones. She was born August 11, 1932, at Manila, Ark., as the first child of Homer and Marie Robertson. She married John Eldon Miller on November 5, 1949.
A PK (preacher's kid) and a lifelong Southern Baptist, much of her life revolved around the church, especially the music. She played the piano or organ for Melbourne First Baptist Church, her home church, for 62 years. She also worked in the family business, The Miller Agency, which included insurance, land title, real estate, and farming. She held down the fort and raised three children while John tended to his work as a state representative for 40 years.
She loved beautiful flowers, knitting, playing cards (Pitch and Rook), and collecting glassware. Watching her children, grandchildren, and great-grandchildren play sports was one of her favorite pastimes, along with rooting for the Razorbacks and the Cardinals. She enjoyed cooking, and as long as she was able, made a point to provide Sunday lunch every week for her family; it was common for her to invite strangers and guest speakers who attended the morning Sunday service to eat. Italian Cream Cake was one of her specialties. She also loved to travel, a trait she passed down to her children. Ruby was a generous person, who gave her time and energy to friends and family.
Her parents preceded her in death; as well as her husband, John; and sister Rebecca Robertson Moore.
Survivors include her three children, David Miller and wife Janett, Melbourne, Martha Miller, Little Rock, and Naomi Miller, Melbourne; eight grandchildren, Alecia Bray (Eric), John David Miller (Tiffney), Hannah McWilliams (Clayton), Maggie Garrett (Mike), Matthew Rush (Amber), Merinda Jackson (Chris), John Harriman, and Brian Harriman; and 13 great-grandchildren, Alex Bray, Carter Bray, Isabella Bray, John Ethan Miller, Ella Beth Miller, Layla McWilliams, Conner McWilliams, Allie Garrett, Annie Rush, Emma Rush, Penny Jackson, Jude Jackson, Beau Jackson, Porter Harriman and Payton Harriman. Other survivors include one brother, Doyne Robertson (Martha); and two sisters, Ruth Carneal (Raymon), and Rachell Mathis (Mike); and her ever faithful companion, Fru Fru.
The family is grateful beyond measure for the help of Cindy Woodruff, who provided care for many years and made it possible for Ruby to stay at home in the final years of her life. The family would like to express a special thanks to Gwen Woods who recently provided additional care and support; and would additionally like to extend gratitude to David Malland for the friendship he provided to her while caring for John after he became ill.
Visitation will be Thursday, May 19, 2022, at 11 a.m. at the First Baptist Church of Melbourne, and the service will follow at noon. Memorials may be given to Miracle Village, a mission delivering clean water, and health and education services to villages in northern Peru (P.O. Box 890, Melbourne, Ark., 72556), or a charity of your choice. Arrangements in the care of Eddie's Family Funeral Home.
Pallbearers: Eric Bray, Mike Garrett, John Harriman, Chris Jackson, Clayton McWilliams, John David Miller, and Matt Rush.
Honorary pallbearers: Mike Cone, Harlin Hames, David Malland, Kenny Pitts, Carroll Prewitt, and Jack Yancey.
Published May 19, 2022
OBITUARY SUBMITTED BY:
Eddie's Family Funeral Home
106 Conniebrook Ln, P.O. Box 979, Melbourne, AR
Phone: 870-368-4848